Reflecting on the first half of the year, I always stop and wonder about the various pieces of content about our industry that appear before the new year.
You know the ones I'm talking about - the top trends in SEO for the year ahead, the most important SEO predictions, and so on.
Do any of these trends and predictions hold up halfway through the year? The answer is usually, "yes." From expansion of the featured snippets, to comprehensive content relative to user search intent, 2019 has proven to be a huge year for across the board innovations in SEO and marketing industries.
So, how has seoClarity followed suit? As I've said before, our mission and vision is centered upon providing our clients with the best technology and innovations to achieve success in SEO - whether their strategy revolves around overall search visibility, keyword research, competitive analysis, or all of the above.
With the quarter coming to a close, I'd like to bring your attention to all that's been going on at seoClarity in the first half of 2019, including all of the features and enhancements that make us particularly proud. Though we'd love to share every impressive detail - big to small - there are far too many to list for just one post!
Here are our biggest innovations that deserve the attention.
1. Dive Into the Massive Update and Keyword Expansion of Research Grid™
With double the keywords added in January 2019, Research Grid is now the World's Largest Competitive Intelligence Dataset! Not to mention the freshest keyword rank checks, updated throughout the month, every month.
Best of all, there are no artificial limitations - no limits on the number of queries, filters, or downloads for any domain (even competitors)! Next, we focused on creating a research dataset that align to a mobile-first strategy. The Research Grid houses up to 10x more mobile ranking visibility than any other keyword research database.
Research Grid includes three plus years of historical data for any domain, sub-domain or URL.
2. Boost Authority with Semantically-Related Topic Research
With our new topic-driven research, Topic Explorer moves from string match keyword research to semantically-related topic research.
Search any topic or keywords against our expansive Research Grid database to find the most relevant keywords related to the topic to identify and become a complete authority on high-demand opportunities.
No more sifting through mountains of keywords to identify opportunities!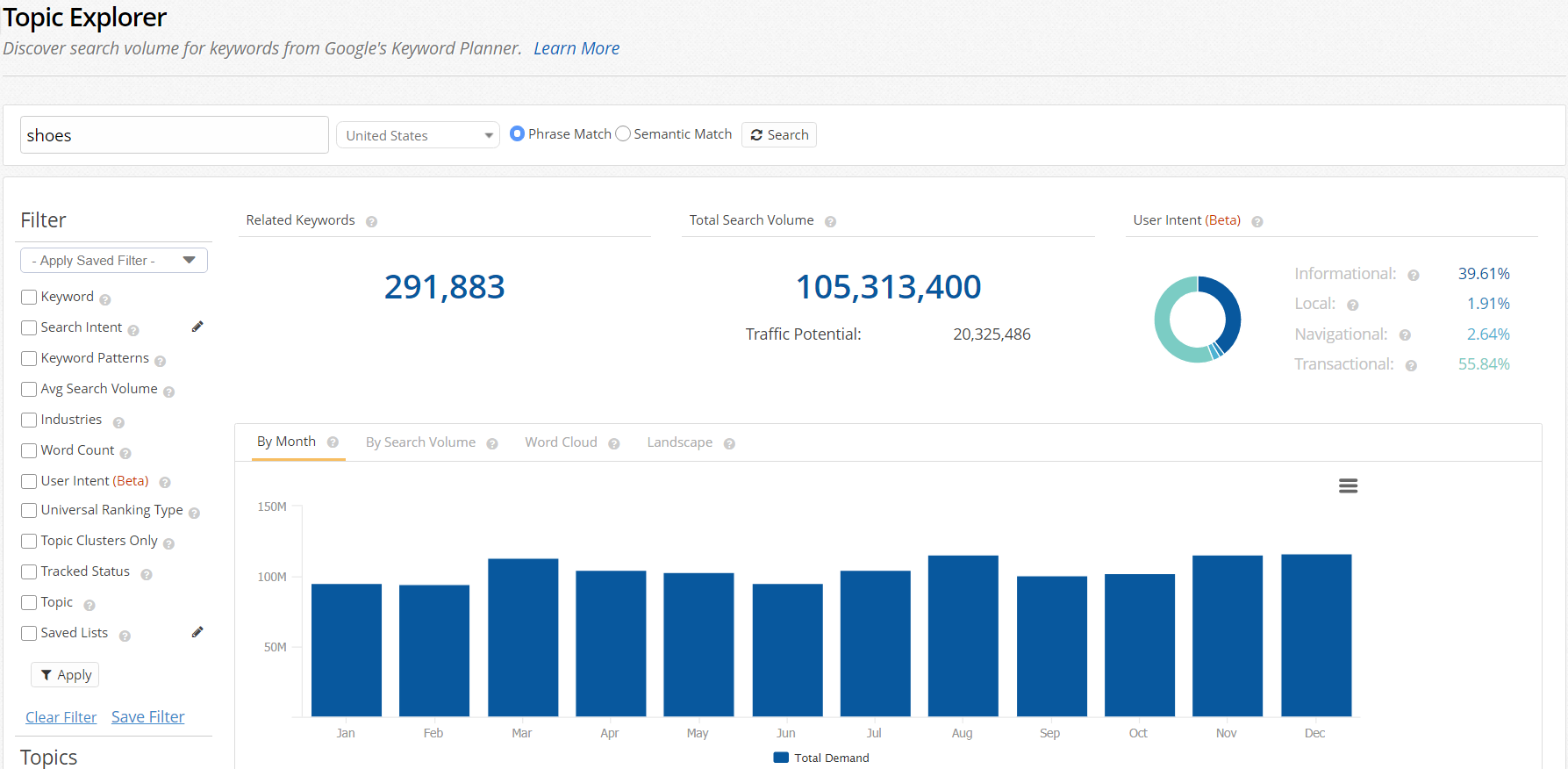 New Topic Explorer platform upgrade.
3. Change Your Approach to Keyword Research
We looked at hundreds of articles, read all of complicated process to determine keyword opportunities. From n-grams, Topic Clusters, and competitive overlays - you name it, we studied it.
Sorting through millions of keywords is a tedious process of data downloads, VLOOKUPS, and messy spreadsheets to actually get to the high-demand opportunities. This is the challenge we set out to address.
In just a few clicks, research content opportunities with Topic Explorer to change the burdensome process to allow marketers to:
Sift through massive amounts of keywords in just a few clicks to target what's most impactful
Leverage an AI-driven approach to user intent across each stage of keyword research
Categorize opportunities with semantic match
Visualize topic clusters to build content authority and relevance within a market area
Identify search patterns through competitive keyword patterns
4. Uncover User Intent for Any Topic, Keyword, Domain, and More
Think back to the Google Hummingbird update. This change marked a dramatic shift from the user experience after a search to understanding the intent behind their queries to deliver the best content.
Today, users have immediate access to information (mobile!) and follow a crazy customer journey to find what they're looking for, jumping from informational content to transactional and then over to navigational bouncing in and out of a marketer's traditional customer journey straight line to purchase.
It's more important than ever to apply user intent across the entire customer journey and understand the intent behind these queries to optimize and deliver the desired content type.
There are complicated, non-scalable ways to understand intent (e.g., Google every keyword and analyze the SERP)), but we applied artificial intelligence and are constantly fine-tuning to deliver a world-class scalable way to identify and optimize for user search intent.
Furthermore, it's applied user intent in every stage of the content marketing process - from research in the Research Grid and Topic Explorer to Content Ideas, all the way to optimization and writing content with Content Fusion.
5. Get Your Hands on the ONLY Baidu Keyword Research Data Set
To truly scale your SEO globally, and with more than 5 million keywords strong, our biggest Research Grid update so far this year makes seoClarity the first enterprise SEO platform with a Baidu research data set, providing unprecedented visibility into the search landscape in China.
Research Grid continues to provide dynamic research so that users can analyze content performance across any domain, sub-domain, URL and more, with access to the entire search landscape in over 90 countries.
6. Compare Performance On-the-Fly Between Search Engines
At just a couple years old, Rank Intelligence is proving to be one of the most impressive features within the platform, allowing our customers to receive real-time insights and on-the-fly analysis based on ranking data.
This year, we've introduced a variety of handy filters within Rank Intelligence to afford clients the ability to compare across a variety of metrics - ones that our clients requested specifically from our product and development teams (remember, if two or more clients ask for a feature, we work to create it!).
We now offer the ability to select multiple search engines and plot selections on the trend charts for a comparison view between those engines. In the image below, you can see the filter set for Google and Google Mobile as the comparison of two engines across the last month for example.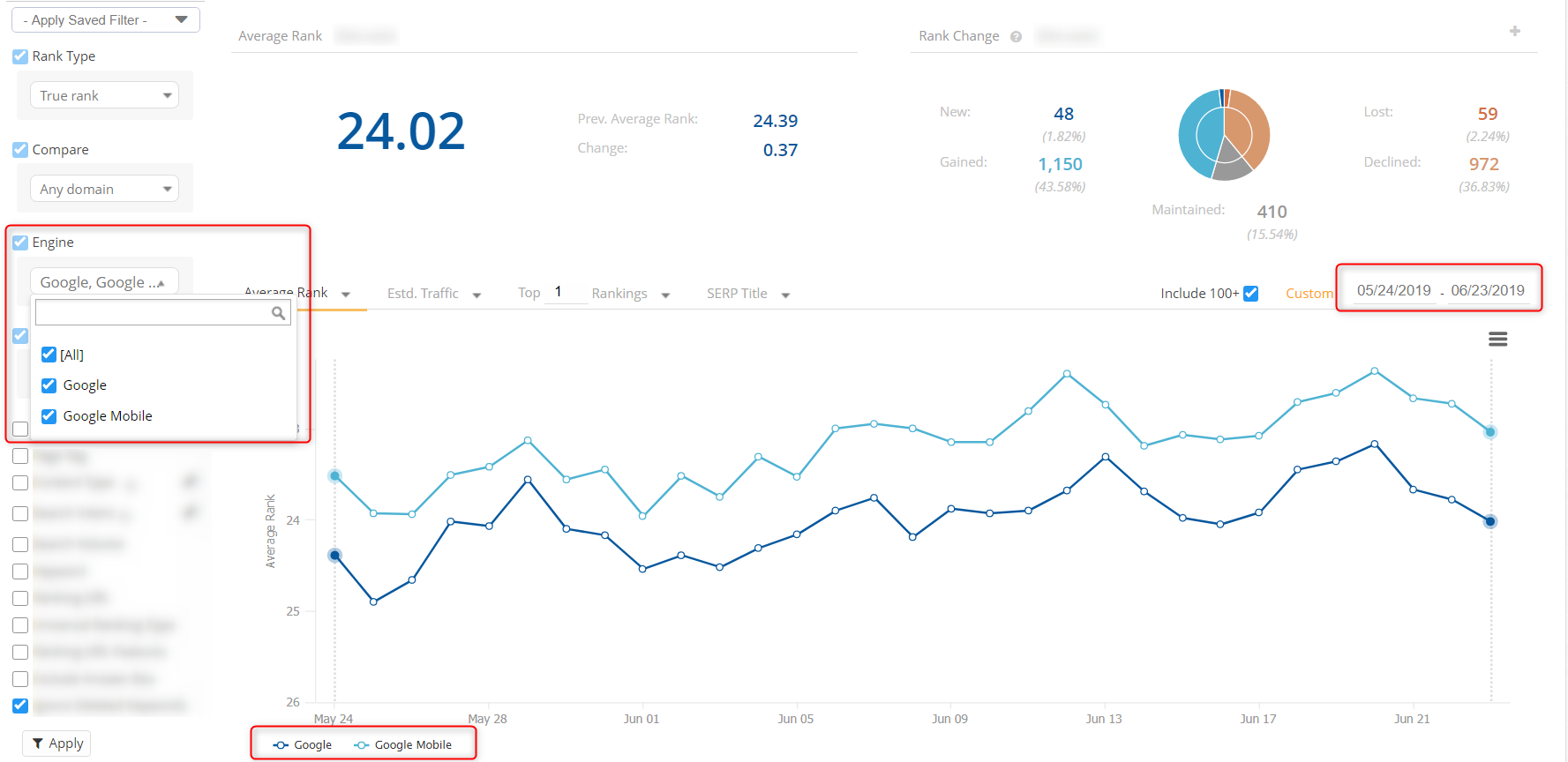 Other filter additions include:
Page Tag Groups; users can filter by page tag.
Search Intent, which helps segment data by underlying intent. This is most commonly used for Brand vs. Non-Brand analysis. Clients can specify the patterns to match and data is segmented immediately.
Content Types,

allowing for nested filtering of pages based on multiple criteria using AND/OR statements to be saved and reused.
7. Find Even More Opportunities to Scale with Site Audits and Built-In Crawler
A little more than two years ago, our site audit technology was reinvented from the ground-up. It was moved to a new infrastructure which provided us the flexibility for a faster pace of development cycles and allowed us to create the most scalable site audit and crawl technology available in the marketplace.
All of our recent updates are centered around the ability to scale technical SEO to ensure a site delivers the best search experience.
Our crawler is even FASTER than before.
Our crawler can now crawl more than 100 pages per second! That's fast. We've tested our crawl capabilities on one of the largest social networking sites with more than 100 million pages. It's also customizable to how fast you want to crawl your site. You set it; we execute. This update was all about how we help our clients scale, so we asked, "How do we deliver the freshest site crawl and audit?" We don't want clients looking at stale crawl data that was crawled months ago.
It emulates Googlebot for cluster crawling.
If you didn't already know, most crawlers crawl your site from your machine, using up your bandwidth and processing resources inside your environment and location. Our crawler emulates crawling just like Googlebot. This is important for several reasons.

Of course everything works better from inside your firewall, and the point is to find errors and issues from the outside and how your users will actually experience your site.
Using an external source to crawl your site, it doesn't assume a specific location. Ever try to execute a crawl for an international site and the crawler is looking at it from a different country? You're looking for issues for how your site looks to Googlebot and your users. The same applies to your mobile site or even crawling your dev environment before publishing.


Cloud-based crawling doesn't rely on the specs of your machine, giving you time and control to focus on other tasks
Our crawler provides the most authentic crawl to render, just like search engines crawl your site.
You can run an internal link analysis for a full link index of your site.
We launched our internal link analysis about a year ago and have iterated and improved ever since. As the only SEO platform to have internal link analysis as a feature, it provides a full internal link index of your site.

To help large sites scale, it now shows your most important one million pages with the most links and allows you to slice, dice, and analyze to answer the most important questions you have about your internal link strategy.

Internal Links Analysis was enhanced to determine issues and provide insights to understand:

- What your most important pages are;
- If they are accessible with the fewest clicks;
- If you are consistent with the keywords that are linking to;
- If you are using wrong or ambiguous keywords to link to them;
- If you are pointing to any pages that are broken, redirected, or canonicalized; and
- If you are linking users to different versions of the same page.

The best part? It correlates crawl data in side audits to your SEO and site performance with internal link improvements to prove ROI with these changes!
Customizable crawl for content auditing & compliance.
This came directly from multiple clients needing to understand where content exists or doesn't exist for compliance reasons, and to ensure analytics, pixels, and other tag information was on each page. You can also look at specific folders, subfolders, or other sections of your site (using URL patterns other URL parameters to remove) to do a custom, targeted crawl to identify just the errors or updates you need to make quickly.

This also allows you to review and/or generate your complete sitemap, or for just a subsection of your site.
Receive AMP Validation.
In order to help our clients ensure their AMP pages do not have any issues, we added the ability to validate Accelerated Mobile Pages (AMP) in bulk. It finds the AMP pages and validates to ensure you have the required HTML mark-up, looks at prohibited HTML elements per AMP specs, and of course reports on SEO issues on these pages.
8. Optimize Content Even Further Within Content Fusion
Introduced to the platform just over a year ago, Content Fusion is the only SEO platform with a built-in, AI-enabled content writer. It provides you the ability to write or optimize content with complete authority. It greatly reduces research time, provides content ideas, and allows marketers the ability to understand a topic to the fullest and create credible content faster than ever before. Marketers can even track and measure the impact of content optimized through this incredible feature.
And, it just keeps growing and improving to meet the needs of our clients! Entirely based on client feedback, the recent additions to Content Fusion include:

The ability to optimize by keyword or start a specific site page.

Recommendations of internal links within the must use keywords, a 100% in-control way to build link juice by giving clues to your users and Google your most important pages.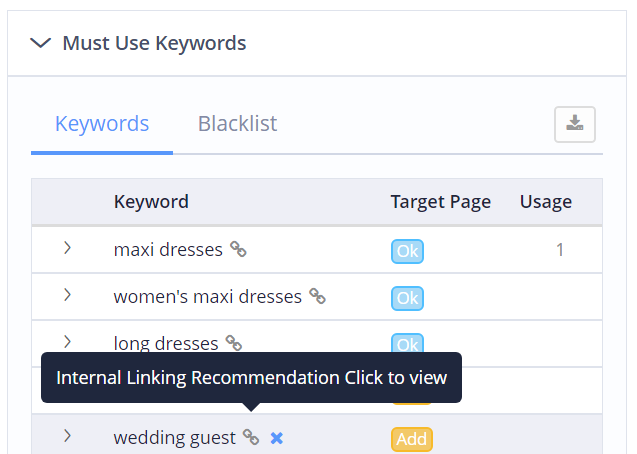 User Intent recommendations and suggestions for terms used within Content Fusion ensure you're optimizing or writing content to capture the user's needs.

What's Next for the Rest of 2019?
Client feedback is the driving force behind everything we do at seoClarity and is the reason for our constant innovations. Our enterprise SEO platform is designed with you in mind, so that you can create repeatable success in your SEO efforts.
The above is just a small sample of the hundreds of requests we receive - no enhancement is too small (or too big!) for us to consider. Later this year, we have an entire road map of developments, enhancements, and new capabilities. Interested in learning more about what's in store? Reach out to us, and we'd be happy to walk you through our platform.