In the SEO/digital marketing world, June is a big month. The start of summer includes many of the major conferences for the year, included IRCE. In fact, out of the 21 Top Digital Marketing Conferences to attend in 2017, eight of them are in June.
In case you missed it, here are some top takeaways:
[su_spacer size="50"]Leverage Your Physical Store Data Online
Physical store data should be fueling your online conversion and experience strategy. Most noteworthy, Fabletics is finding success with their OmnicCart technology. As detailed by Retail Dive, in store tracking technology fuels improvements online. For example, when a shirt is selling well in store, but not online. There's likely an opportunity to update product images.
Fabletics calls this extraction of insights from it's brick and mortar stalls "brick mining," and should be repeated by other retailers. Also, Sephora reviewed their use of a Virtual Artist experience in their app. Store associates work with customers to navigate the app in store. Customers can view makeup styles projected on their own faces to help make purchases.
These tactics encourage customers to visit the store and engage. And many customers are enjoying it.
Aligned with these market trends, seoClarity launched a brand new local enterprise SEO platform, Local Clarity, this month. This advancement can help local minded retailers like Fabletics and Sephora connect new tactics to SEO.
From Twitter

— Matt Lindner (@mattlindnerIR) June 7, 2017
Related Presentations:
[su_spacer size="50"]
Have a Marketplace Strategy
The marketplace battle might not be over just yet. Even though Amazon is still the Internet's top site, some brands are focusing on Walmart. In addition to being the world's largest retailer, Walmart is able to bring a fresh option to sellers from innovation investments its been making since 2011.
Walmart is gaining momentum in growing its marketplace business. Therefore taking on the likes of Amazon and eBay. Walmart plans to add one million products per month this year.
Walmart is also innovating in store. As noted by Retail Dive,:
"We're moving from an information age to an experience age," said Imrad Ansani of Walmart said. "It's going to be table stakes."
Presenter Mike Duncan, Founder of Warehouse Skateboards covered practical tips to stand out on Amazon. Everything from improving shipping times and pricing strategies to getting loyal customers. These can pay off big time on Amazon. Failure to put into place most of the tactics Mr. Duncan outlined could also spell failure. Probably the most overlooked by marketplace retailers, is the Amazon feedback removal tool.
From Twitter
— Joe Scartz (@JAScartz) June 6, 2017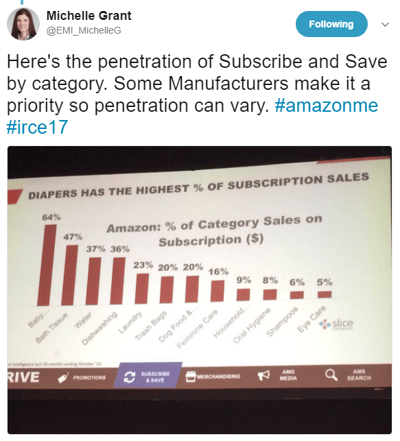 — Michelle Grant (@EMI_MichelleG) June 6, 2017
Related Presentations:
[su_spacer size="50"]
Retailers Must Work for Consumer Value
Retailers know they cannot stand back and rely on customer's loyalty to buy products from them. Many retailers reported efforts to step up, and present their product lines in a unique way. Home Depot for example recently leveraged knowledge about their customers to improve the customer experience. They didn't simply install the pass-through content from the manufacturers for their product descriptions, and they looked to craft a user-experience based on relevant factors only.
As Josh Levine, Founder, Chief Design Officer at Cake & Arrow noted:
Buying a chair is different than buying a bath bomb - design accordingly.
For example, for Home Depot, they suppressed details like the surface area of a grill. Instead, they showed their customers how many hamburgers each grill can cook at one time.
The team incorporated customer feedback and SEO data to build a great experience. And it's paying off. As a result, the Estimated Traffic to Home Depot's grill product pages jumped 28% from November 2016.
Just in time for BBQ season.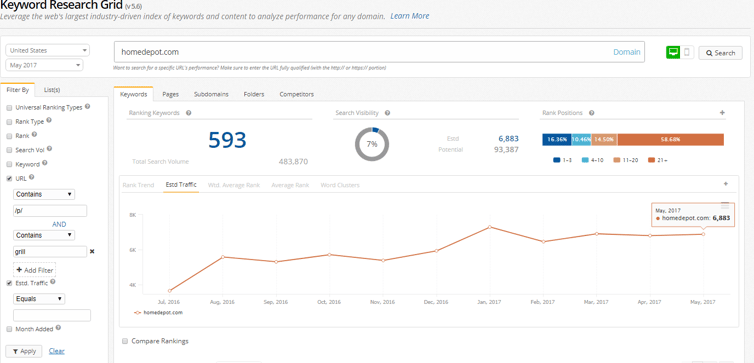 Related Presentations:
[su_spacer size="50"]
Mapping your Customer Journey Might Be the Best First Step
Customers are on their own journeys. And brands that help them on these paths will be successful, several presenters noted. We've seen many of our clients take action to build a customer journey. And the fruits of those approaches are paying off in the first part of 2017.
Presenters shared web design trends and ways to meet customer expectations. Topics included how to meet customization needs and performance expectations, while not sacrificing on experience. As Josh Levine also noted in his presentation:
Interfaces will adapt to people's lifestyles and habits, creating a more fluid and conversational experience.
Tweets:
— George Barton (@georgesbarton) June 7, 2017
Related Presentations:
[su_spacer size="50"]
Yes, IRCE yet again, had it all. So much great content to sink your teeth into. And if that wasn't enough, there was bacon.