I'm sure you'll agree; the web's gone a long way from its inception.
And yet, consuming content on mobile devices often brings back memories of the gold, old phone modems and dial-up access times, doesn't it?
Just think about it, you try to access a page, but your phone goes blank, waiting for the data to load.
You try to scroll down, but the content just won't budge. At least not until your device processes all the code first.
And then, when you think you have it finally under control, some script your phone can't handle throws everything upside down. Literarily.
It goes without saying, mobile users still have a lot to expect from the web. At least when they access it from their devices.
That's precisely why companies like Google, Wordpress.com, Twitter and many others have joined forces to come up with a solution. And the result is one of a fascinating web initiative, the Accelerated Mobile Pages Project (AMP for short).
Since the AMP project is still relatively new, with many misconceptions around it, I decided to shed some light on the subject.
In this article, I'll show you what AMPs are and discuss how they could affect a website's search performance.
But to start at the beginning…
What Exactly is the AMP Project?
In the simplest terms, the AMP project is a method of creating web pages for static content that render incredibly fast on mobile devices.
The primary goal of the AMP project is:
"[…]to dramatically improve the performance of the mobile web. We want webpages with rich content like video, animations and graphics to work alongside smart ads, and to load instantaneously. We also want the same code to work across multiple platforms and devices so that content can appear everywhere in an instant—no matter what type of phone, tablet or mobile device you're using."
In technical terms, AMP relies on using a simplified, stripped-down version of the HTML markup that allows for creating lightweight versions of web content, optimized for fast mobile display.
What's more, as part of the project, Google offers a caching platform so ultimately, you could host the page on the search engine's servers. As a result, when a user clicks on an AMP result in search results, Google doesn't even have to retrieve the page from your server.
Of course, as a result of the code simplification, certain web page elements cannot be translated into AMP. Online forms, for example, would require too much processing to be allowed in the project. You can't also use any javascript and many other web page effects.
But leaving technology aside…
Why AMP Pages Are So Important?
You see, it all boils down to web performance. As I'm sure you'll agree, when it comes to converting mobile users, few things matter more than speed.
For example, a couple of years ago, Kissmetrics analyzed the effect of page load time on conversions. They discovered that even a single second delay could reduce conversions by a massive 7%.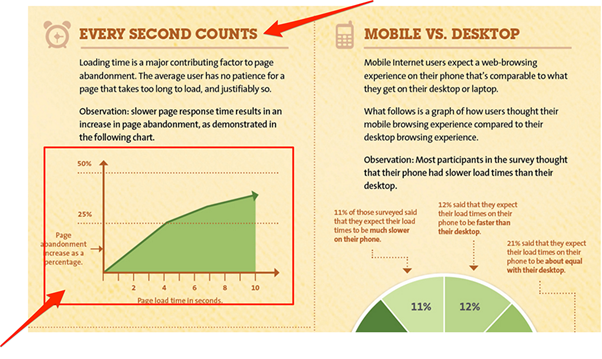 And so, it's safe to assume that every time a page takes too long to load, a company loses a potential reader, lead or customer.
(Gif source: http://giphy.com/gifs/l3V0BVDTyuMzwpS1i)
The AMPs aim to help businesses prevent this from happening by allowing them to serve mobile content that renders instantly online.
And according to the data from Google, AMP are:
"4x faster, use 10x fewer data compared to non-AMP pages
On average AMPs load in less than one second
90 percent of AMP publishers experience higher CTRs
80 percent of AMP publishers experience higher ad viewability rates"
Another important thing to mention here is that the AMP project started as a collaboration between technology companies and major publishers like New York Times to help deliver mobile-optimized news stories.
However, Google has decided to introduce AMPs to the main organic search results.
This means that now pretty much every page can have its AMP counterpart for mobile users.
But Will AMPs Affect Web Rankings? And If So, How?
Good question.
And one that's particularly important as both page load time and page speed constitute the major ranking factors.
But so far, the answer is, not really.
First of all, AMPs work only in mobile search. Users accessing Google from their desktops will still see the original page.
Mobile users, however, will see the AMP icon beside the search result to denote a mobile optimized version of the page.
Here's how it looks in the news carousel:

And here's the icon in the main, organic search results: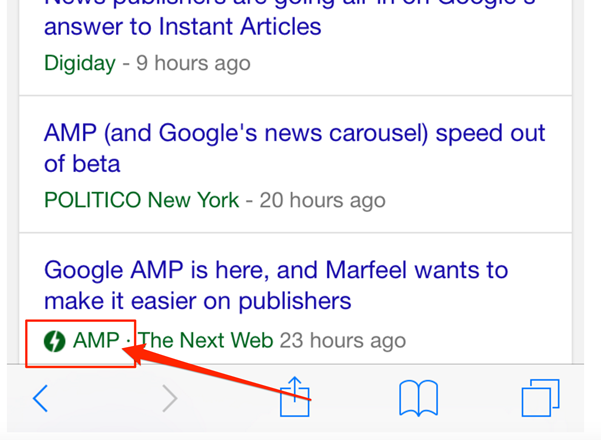 Secondly, as David Besbris, the Google's VP of Engineering explained, when the search engine detects two versions of the page, a mobile-friendly one (non-AMP) and an AMP, it will serve the latter.
However, given their apparent benefits to web users, I could see AMPs ranking better than mobile-friendly pages sometime in the future.
So, What Could You Do to Prepare for AMPs?
Although it might not seem this way at first glance, creating AMP versions of your content is a serious undertaking:
AMPs are separate web entities. And so, you will have to build and then, maintain an additional page for every content on your site you want to convert to AMP – the original page and the AMP.
AMPs are all about speed. Because of that, they can't include many web elements like forms, various scripts, and other on-page elements that slow down the page load. You will have to strip your original content from anything that's not permitted in the AMP HTML.
As a result, you will most likely have to rewrite your template code to accommodate AMP requirements. For example, images or fonts have to be loaded with a special tag with sizes and other variables specified.
And you will have to move CSS inline, as the framework doesn't allow external call-outs (plus the entire CSS has to be 50kb or less).
However, if you built your site on Wordpress, there's some good news for you. Automattic, the makers of the CMS platform (and one of the tech companies taking part in the AMP project) have developed a dedicated Wordpress plugin allowing to implement AMP on a WP site.
The plugin automatically creates AMP pages for every post on the site. However, worth of note is that the plugin does not support Pages and Archives. So, ultimately only your blog content will be translated into AMP.
For the other platforms, unfortunately, you have to resort to converting your pages to AMP manually, at least until a dedicated software appears to take care of the process.