Here's a customer success quote from Andy Mura that I'm particularly fond of:
"Customers don't buy a piece of software. Customers buy success."
It's so true, isn't it?
And I guess many software companies have realized something similar. After all, since last year, the number of organizations that decided to create dedicated customer success teams went up from 40% to a staggering 90%.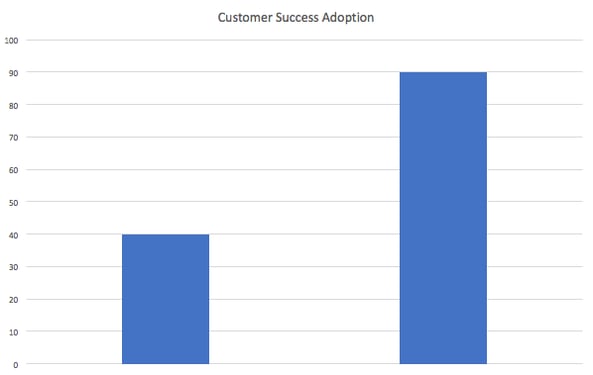 Similarly, 62% of companies view customer experience as a serious competitive differentiator. And 77% aim to grow their customer success team's size in the next 2 years.
What's more, according to last year's data from Gartner (cited via Clarabrdge), 50% of product innovation should now be going to customer experience innovation.

Although encouraging, these numbers don't reveal much about what sort of support you should expect from an enterprise software platform. And so, in this post, we will cover the insights into what you should expect from your SaaS technology partner.
Interested? Then let's start at the beginning.
Customer Success Pain Points
Let's leave the most common reasons for reaching out to support - technical issues with the product, problems with using specific functionality, and so on - aside. It should go without saying that a platform should provide a means for customers to overcome those in a timely manner. This could be a thorough FAQ section or access to technical support.
But there is another major issue requiring organizations to invest in their client's success:
Help them achieve success, as defined by the client.
Let me explain.
A major pain in search marketing in enterprise organizations is a lack of resources to actually get the job done. Naturally, a software platform itself helps a company to complete specific tasks, streamline others, and in turn, due to the technology it offers, save time.
But many organizations will also need another type of help - support to utilize the platform in full. These could come through offering proactive insights, guidance or even managed services. And so, at a minimum, an enterprise platform should deliver the following support levels:
Must-Have Client Success Features
#1. Seamless Migration and Support
I'm sure you'll agree with me on this:
If anything serious is to go wrong with adopting a new software platform, it will happen at the migration stage.
After all, so many factors, from overall technology differences to the database setup can cause loss of crucial information. But given to the typical amounts of SEO data enterprise companies amass, this could easily lead to months (if not years) of hard work lost!
At the same time, data migration is an integral element of adopting a new platform. Naturally, your team would want to continue using their historical data as a basis for future campaigns, reporting progress and return on investment and productivity.
Software vendors should offer the option to migrate the information for you. This mitigates the risk of potential data loss in the process.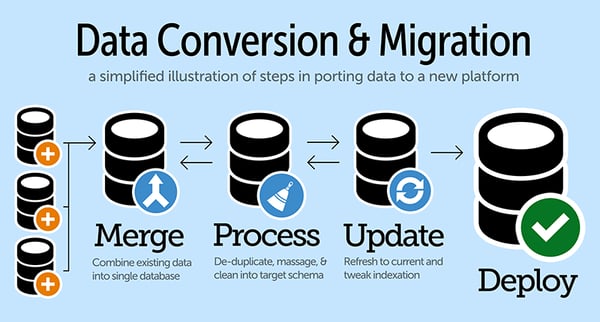 #2. Ongoing Training
You know, in simplest terms, customer success is nothing else but assigning resources to help customers remain successful with a product. Which, in case of software, means ensuring they continuously know how to use a platform to utilize it to its full potential.
Enter training.
Client training typically includes an onboarding process during which a software vendor helps their new users to realize the activation point. And by doing so, ultimately lead them to success with the product. But this process ensures only the initial success.
However, platforms change and evolve to keep up with changes in the industry. So do teams. People move jobs, and organizations task new staff with using a platform.
An enterprise platform should offer the opportunity for ongoing training and support of new users. This should extend from the product to the latest industry changes, trends, and market developments to help keep their content and search teams ahead of curve.
#3. Managed Services
This ties in with the previous statement - helping clients remain successful with the product.
Ongoing training and migration are two ways to achieve it. Another is to help clients deliver specific aspects of their campaigns for them. At times, a software platform should assume responsibility for processes and functions of their client's operations to help them achieve desired outcomes.
In case of software, managed services typically come in a form of service hours included in a package for a client to use to improve their strategy. It includes guidance for the forthcoming campaigns, extra assistant and resources for project-based work, and other strategic initiatives from content strategy to site migrations and technical site audits.
But enough theory. Let me show you how enterprise platform's customer success looks like in practice.
How seoClarity Empowers Enterprises for Success
We have five (5) support teams that interact and assist our clients:
#1. Client Success Manager, who often act as the "quarterback", if you will. Their role is to:
Align technology to our client SEO and content needs

Demonstrate how seoClarity can operationalize and scale efforts

Deliver insights which are unique, relevant, and highly valuable
#2. Technical Support Services, helping our clients implement seoClarity into their existing workflow. This team offers technical expertise and supports custom data requests that our clients might require. They work in tandem with CSMs to solve our users' challenges.
#3. Professional (alternatively called managed) Services, devotes their time to strategically help our clients with special projects, initiatives, and consultative support. Depending on their platform package, our clients also receive complimentary services to help them to scale their SEO efforts by offering more strategic insight and guidance. Learn more about what they offer here.
#4. Training. We offer continuous training to our users via a multitude of channels - live webinars, videos, and even on-demand sessions. On top of that, we offer a seoClarity Certification that helps clients become experts in our platform, and learn how to utilize its incredible technology for success.
#5. Executive Support. With access to our executive team, we ensure that our clients' initiatives and challenges are solved. With two-week product release cycles, we provide our users with frequent updates and enhancements. In fact, if two clients request a feature enhancement or new functionality, we build it.
Our executive team is continuously involved in your success, fostering relationships, and incorporating your feedback into our product cycle. In fact, many of our platform upgrades stemmed directly from users (for example, an enhancement to our Clarity Audits, we enabled this site audit technology to now include a Javascript crawler).
Closing Thoughts
Our goal is to help brands build the best search experience for their customers. In order to be a partner and contribute to search experience success, we continually invest to advance seoClarity as the leader with our technology for search and content optimization and deliver world-class customer service.
If you want to find out more about seoClarity and discuss becoming a client, contact our sales team at sales@seoclarity.net or you can set-up a demo of our platform here.