Companies around the world are cutting back on software, budgets, and unfortunately, people. The current economic situation is hard on everyone, especially our beloved SEO teams.
SEOs now face the challenge of increasing their capabilities and empowering teams while also reducing expenses.
At seoClarity, we help enterprise brands worldwide significantly reduce their budgets without sacrificing the capabilities needed to carry out their SEO strategy.
It's no surprise that 60% of seoClarity customers upgrade from another SEO platform!
But don't just take us at our word (though you should!), take a look at these cost savings stories from our enterprise clients. Many of these challenges and opportunities apply to your needs as well.
Jump to each cost savings story:
Global Travel Booking Site Saves 40% While Upgrading Their SEO Platform
This global hospitality site previously used Stat for ranking data extracts and then integrated them into a separate BI tool for analysis and reporting.
They knew they needed to spend their resources more wisely and cut out the busy work of data extracts and integrations. That's why they switched from the ranking-only tool to seoClarity as their sole rank-tracking provider.
In addition to reducing their investment in SEO tools by 40%, they gained a bunch of additional capabilities with seoClarity's all-in-one platform which greatly increased the efficiency and effectiveness of their SEO efforts.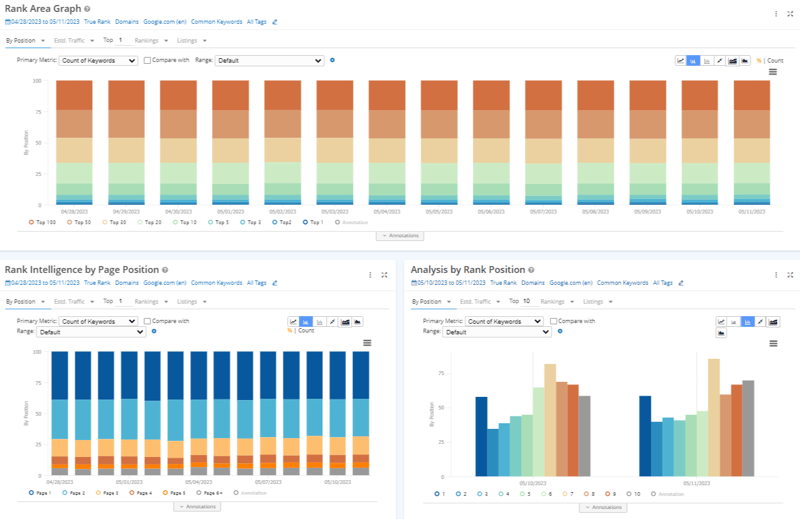 For example, they previously only had access to one static dashboard and couldn't get the visual reporting that really mattered to them. With seoClarity, they gained access to unlimited customizable dashboards that allow them to build reports based on specific goals, site segments, and local regions.
Cloud Computing Platform Provider Increases Capabilities and Reduces Budget By 45%
Since the cloud software industry moves fast, this client needed to see ranking updates more frequently than the weekly rank tracking they had through BrightEdge.
At seoClarity, daily ranking data is a core part of the platform, and we deliver it in the most cost-effective way in the industry.
Daily:

Weekly:

In addition, we offered unlimited reporting dashboards and data extracts so they could integrate their data into their custom data warehouse for no extra charge.
Of course, they also get many other seoClarity benefits as part of our Core package, like technical SEO capabilities and integrated GSC data.
After a thorough evaluation of their current contract with BrightEdge, we matched their existing offerings, provided all the additional functionalities listed above, and saved them 45% on their annual spend!
Major Real Estate Marketplace Saves $37k Annually With seoClarity
Some companies switch to seoClarity but don't reduce their other tools fast enough. This delay creates double-spending and prevents them from taking advantage of the platform's integration benefits.
For example, after making the switch to seoClarity, a real estate company continued using another SEO technical tool, Lumar (formerly Deep Crawl).
We encouraged a straightforward side-by-side comparison of seoClarity's Site Audits vs. Lumar which revealed that seoClarity's site audits and crawler could produce exactly the same insights (if not better).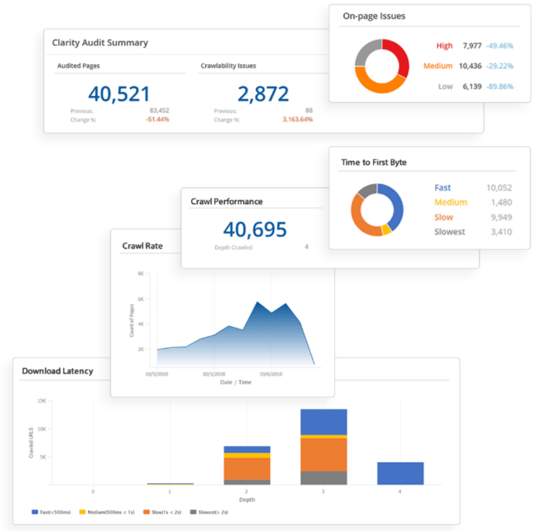 As a result, they canceled their contract with Lumar which saved them $37,000 annually and freed up their budget for more meaningful traffic-driving initiatives.
Using seoClarity exclusively also provided them with a single source of truth since they could connect all their SEO data, metrics, and capabilities into one accessible platform.
In addition, they receive far more support from our dedicated client success team than they did with Lumar who provided very little contact.
With seoClarity, they receive best-in-class support in the form of bi-weekly calls with a dedicated team and proactive customer assistance.
Media Conglomerate Saves $200k+ Annually After Consolidating SEO Tools
To prioritize other SEO projects, this media conglomerate had to reduce its SEO tools budget. Paying for multiple SEO tools not only led to excessive spending but also hindered data connectivity, report development, and analysis.
Recommended Reading: Compare Enterprise SEO Platforms to SEO Tools
When looking for ways to reduce costs, the global company with seven different SEO teams realized that it could consolidate and eliminate the use of a separate SEO technical tool, Botify.
We dove deeper and discussed the specific use cases and insights gained from Botify with each team. And guess what? They realized that seoClarity could provide all the same functionality.
Plus, with seoClarity's unlimited crawls, crawl projects, and site audits, more teams within this media organization could leverage site audits more frequently.

As a result, the media conglomerate canceled its Botify subscription and saved almost a quarter of a million dollars annually.