Try to think of all the changes in SEO this year alone …
… You don't need me to tell you that the SEO industry moves fast. And what a year it's been.
This year alone the SEO community saw:
Google page title rewrites
Announcement of the MUM algorithm
Continuous scroll make its way to Google mobile
The Page Experience update
… and that's just starting the list.
As we move into 2022 (what?!), we're sure you can expect some major changes in search.
Here's what we anticipate being the biggest trends in enterprise SEO in 2022.
We compile this list of trends every year — here's our strategies for 2021. What would you have added to the list?


Top Enterprise SEO Strategies of 2022
#1. Automate SEO to Scale Execution
Automation isn't new to SEO — the way we think about it is.
You'll be able to go from data to insights to execution faster than ever before, and even make real-time changes to your site with a few clicks.
Some people think that if they use a rank tracker, they've automated their SEO. And while they're not wrong, that's only scratching the surface of what next-generation automation will be able to achieve in SEO.
Recommended Reading: Redefining SEO Automation: 10 Ways to Make SEO More Efficient
These advancements will allow you to offset work directly to AI and automation, and fill those gaps in time and resources to scale your processes.


#2. Machine Learning and NLP to Generate Insights
Enterprise sites have access to so much data that machine learning and natural language processing becomes necessary to make sense of it all.
Instead of using your own time, have the technology pull insights for you.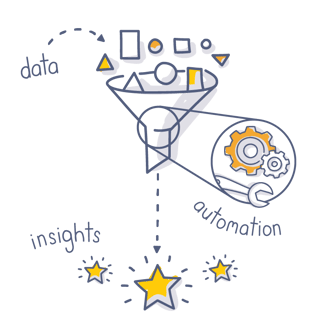 So, what kind of insights are we talking about?
One example is Actionable Insights, but we prefer to call it your 24/7 AI-driven SEO assistant. It analyzes your site data in real time and locates both errors and areas of opportunity across three main buckets: usability, relevant, and authority.
Another is Content Fusion — content optimization powered by AI — that gathers key insights required to create a piece of authoritative content in a matter of seconds.
Sure, you can do the work yourself, but when machine learning is right there, why would you want to?


#3. Make SEO a Product + Marketing Function
SEO should be treated as a product, complete with features (improvements) that need to be made to attract new customers (searchers) and bugs (issues) that need to be solved to keep existing customers coming back.
It's this thinking that will allow your organic search program to evolve with the industry, rather than trying to catch up.
In addition, this also opens doors for tried and true approaches to testing, iterative improvements, and validation.


#4. The User Experience Remains Crucial
Google search may run on various algorithms, but it's real users who use the search engine.
Even if you chose to focus on algorithms, it would be pretty futile. After all, Google has hundreds of algorithm updates every year. Just look at 2021 alone: there were core updates, spam updates, product review updates …
With so many updates, SEOs are better off focusing on the receiving end of a Google search: the end user.
Ensure a positive user experience (fast-loading website, relevant content, etc.) and you'll find yourself naturally staying ahead of the changes.
This sentence from our blog post on algorithm updates pretty much sums it up:
When you optimize for the end user and build a reputation as being a trustworthy, reputable resource, you set yourself up for long-term success."
#5. Core Web Vitals and Page Experience
Google alerted SEOs to the Page Experience update a year prior to its roll-out.
Some would say that the anticipation was bigger than the outcome itself, but the message here is that Google values the overall experience. (If this sounds similar to #4, well … it sort of is! We prioritize the user experience here at seoClarity, which is why we prefer to think of SEO as search experience optimization.)
Things like Core Web Vitals (i.e. largest contentful paint, first input delay, and cumulative layout shift) along with mobile-friendliness, safe browsing, and more come together to create an overall page experience signal.
It still remains crucial to optimize these components for quick load times, but more importantly, quick interactivity.
If you could use a refresh on Core Web Vitals and the Page Experience update, check out What the Core Web Vitals Update Means for SEO.


#6. Local SEO
Some diners and shoppers chose to conduct business in brick and mortar stores in 2021. While we're unsure of what the new year will hold in terms of local foot traffic, it's good to be prepared for a reemergence.
Be sure to optimize your Google Business Profile (previously known as Google My Business) to show customers your store hours, contact information, and more.
If you're an enterprise business that operates out of multiple locations, local rank tracking becomes key to monitoring your performance across markets.
We wrote in our guide to local SEO:
… set up local rank tracking for every location you operate in, ideally down to the ZIP code, if necessary."
For those multiple locations, you'll also benefit from having location-specific pages that are unique to that property.


#7. Quality Content
SEO couldn't exist without content. From blog posts, to product and category page copy, content is what drives value to users.
Although it's been established for a few years now, Google's EAT framework (Expertise, Authoritativeness, Trustworthiness) remains a critical component of strong content.
Before we break it down, let's cover the importance of keyword research.
Prior to writing a single word, you need to know if what you're writing about has search demand. Are your customers searching for this? And more importantly, how are your customers searching for this?
For example, do they search for a "survival kit" or a "go bag"? A rich keyword data set will let you find out.
Look for a keyword research tool that has a large, fresh data set, and that allows you to segment that data set by search intent, search volume, topics, etc.
The more ways to filter, the better you can understand how your customers search.
Now back to Google's EAT.
Expertise refers to the author of the piece of content. An expert at your business should have the byline for any given content piece. For example, a blog post about your organization's security procedures is stronger if it comes from your COO as opposed to your Director of Marketing.
Authoritativeness deals with the individual piece of content, as well as the website as the whole. Are you an authority in this subject area? Do you cover the topic to the fullest?
Consider creating one main "hub" page for a topic, then multiple content assets that link to that main page. This methodology, known as the topic cluster approach, is a great way to cover a topic from various angles and demonstrate your authority on the subject.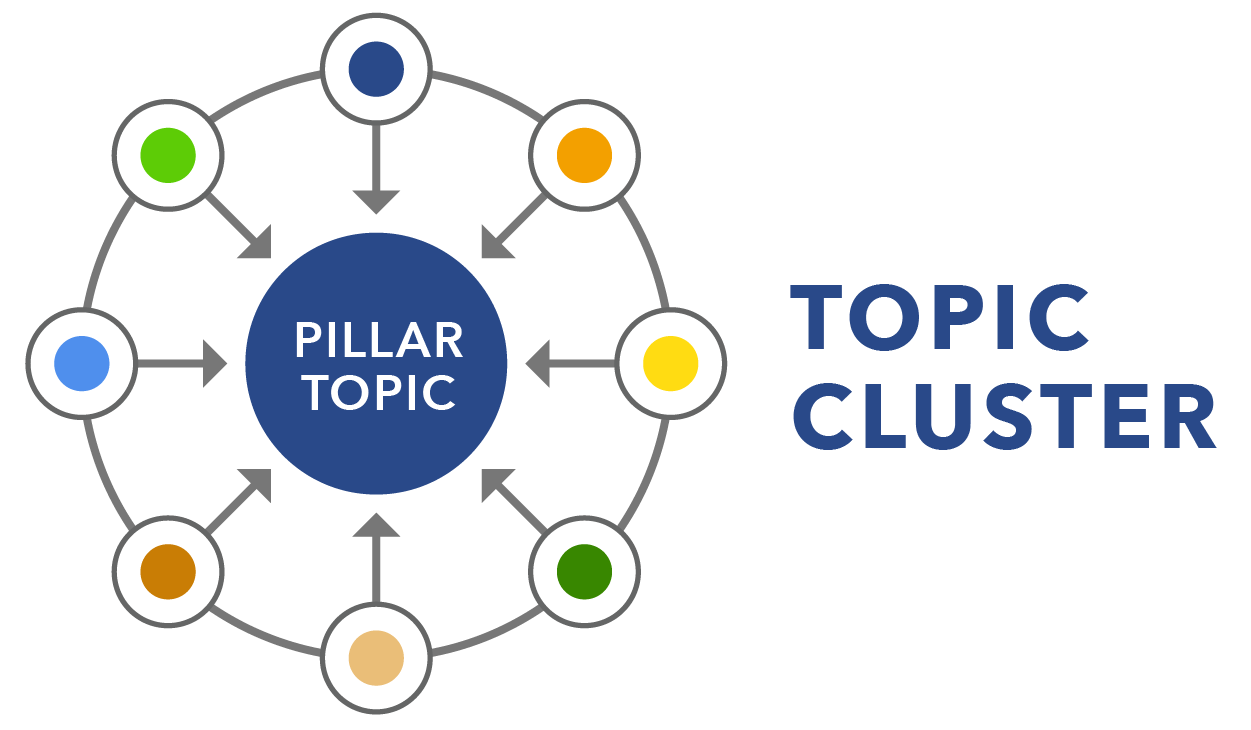 Tip: Cover any topic with authority with an AI content optimizer that leverages predictive NLP and presents key insights from top-ranking content. Better yet, get two weeks of free access to our content marketing solution, Content Fusion.
Lastly, trustworthiness relates to your content and website. It's the overall perception of your organization. Deliver truthful, useful content and you'll be set.


#8. CTR Gets Specific
Measuring organic click-through rate has always been a way to evaluate the performance of your SERP listing and locate areas of opportunity, but working with generalized numbers isn't enough.
If companies in different verticals and in different geographic locations all use the same benchmark CTR as an indicator of performance, someone is going to derive the wrong insights.
Instead, analyze and utilize CTR as it relates to your industry specifically. Our latest CTR research study breaks down billions of impressions and clicks into a number of segments: device, country, seasonality, and industry.
Tip: seoClarity users can integrate Search Console data into the platform to slice, dice, and analyze CTR in a number of ways with just a few clicks.
Once you understand your industry's CTR benchmark, you can get to work forecasting traffic potential and improving your organic click-through rate. Consider implementing schema markup that can enhance your SEPR listing with rich results. This not only increases search visibility, but works to generate clicks.


#9. Data Analysis Gets Center Stage
Search data is a vital source of business intelligence. To turn the 0s and 1s into a cohesive story, consider hiring a data scientist, if you haven't done so already.
SEO data collected and analyzed at scale gives you a much more extensive range of insights into the consumer's search behavior and buyer's journey.


#10. SEO Testing
If you implement a site change and see a result, but didn't run an SEO test, did it really happen?
Testing allows you to confidently prove out the cause and effect of site changes in a data-backed way.
There are a number of SEO tests to run — from schema to calls to action — all of which let you justify projects, save time, and earn buy-in.
Recommended Reading: The Right Way to Do SEO Split Testing


#11. Image Optimization
Image optimization can give you a more enhanced organic listing. This is because Google updated the way images are presented on the SERP — they now can appear as a carousel within an individual SERP listing.
Optimizing images includes:
Creating a rich file name
Using alt text
Adding an image sitemap
Minimizing file size


#12. Organizational Collaboration
The power of SEO is undeniable … to you.
Do others in your organization turn a blind eye to the organic search channel? It's frustrating when SEO drives 30%+ revenue, but has the fewest resources and smallest budget.
This year, focus on educating your stakeholders and colleagues on the value of SEO.
You're probably wondering how you can do that.
Start by using SEO data to collaborate on projects throughout your organization. After all, SEO benefits every team in a company.
This may be more challenging with remote work, but meeting with your team and hosting virtual "Lunch and Learns" can be a great way to connect on priorities, share some SEO knowledge, and get to know your colleagues better.
But word to the wise: when you talk about SEO, always make sure to align it to their priorities and goals. Make it about them, and they won't have a reason to look the other way.


Conclusion
There you have it — 13 enterprise SEO trends and strategies to keep your eye on in 2022.
What else would you add to the list? Let me know in the comments below.
Here's the list again:
1. Automate SEO
2. Utilize machine learning and natural language processing
3. Think of SEO as a product and marketing function
4. Prioritize the user experience
5. Be mindful of Core Web Vitals
6. Think local
7. Create quality content
8. Find your true CTR
9. Leverage SEO data
10. Test, test, test
11. Optimize images
12. Evangelize organic search