As a client's number one resource for support and training, the seoClarity Client Success team knows the platform inside and out. This team truly takes the time to understand the unique challenges you face within your own organization.
We asked members of this dynamic team to share their expertise and insights into the seoClarity platform to help you better inform your process.
They covered their top tips for using the platform based on what our clients request the most - from efficiently making inferences about your keyword and page rankings to effortlessly understanding your competitors.
Here's what just a few members of our expert client support team had to say about their favorite features of the platform.
Tip 1: Understand and Manage Keyword Performance
Using Multifaceted Rank Clarity
By Kris Leasure, Client Success Manager
Many of my clients come to me and ask about how to improve upon their sub-optimal URLs that are ranking for their keywords. I like to instruct them on how using multiple facets of Rank Clarity can help them dig into specific, keyword-level performance in a variety of ways that help them make these improvements.

I recently had a client who experienced a drop in rankings for one of their domains and noticed it in the dashboard. Enter: the underutilized Trend view in Managed Keywords.

While the regular Rank Clarity data table allows you to compare two dates and sort by gains or losses, the Trend table gives a quick visual heat map of the keywords that are jumping around on the SERPs over a given period of time.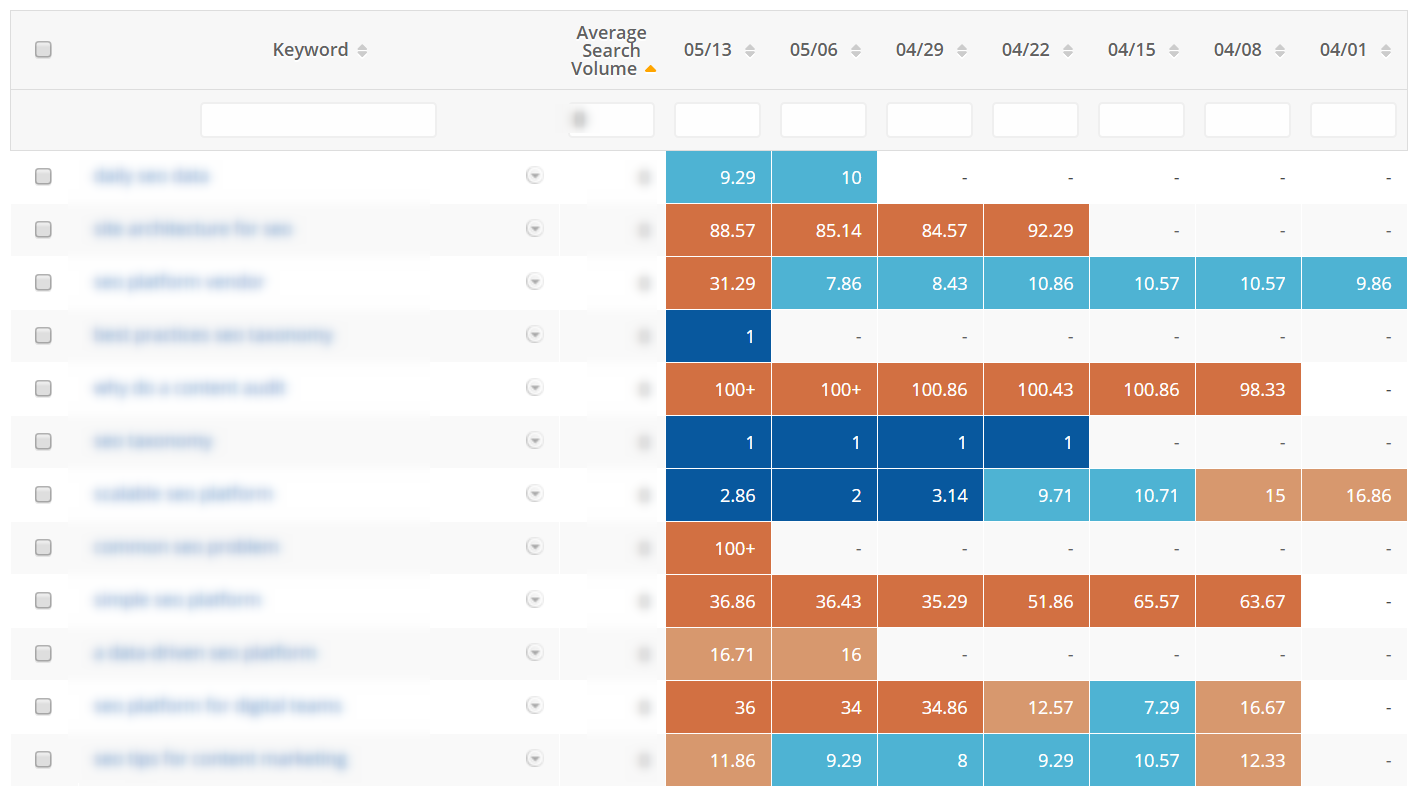 Sample weekly view of the Trend Table in Rank Clarity's Managed Keywords.
To help the client, I jumped into the weekly view in the Trend table and it was easy to spot which keywords took a temporary dive in one week. I then went into the list of a keyword's ranking URLs right from the table, and we discovered that Google has started ranking another URL from the same site. Knowing this, the client was able to determine the best step to take to make the improvements on their keywords.
Another example of Rank Clarity tips that I regularly share with my clients supports a challenge that a lot of international domains face: understanding the rank of their preferred URLs.
We encourage our clients to associate keywords with their preferred URLs, and the By Preferred Pages feature in the platform is an excellent example to show why your preferred page may or may not rank for your chosen keyword.

Essentially, this part of the platform gives great detail into how many of your keywords have the preferred URL ranking, but more importantly, where another URL from your domain is ranking higher than the one you're targeting.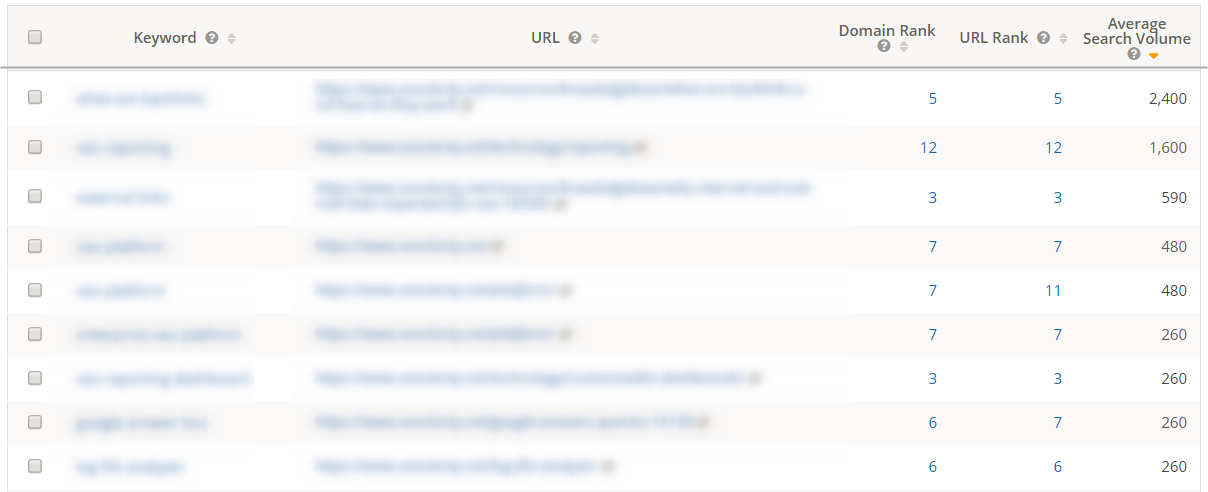 Sample view of By Preferred Pages in Rank Clarity's Managed Keywords.
In the case of our international clients, they often see that although their domain is in the top spot on the SERP for a particular keyword, the country- or language-specific URL that they want to rank the highest is not doing so - this is a clear indicator of opportunities of further optimization.

Within Rank Clarity, there are other use cases for Rank Intelligence. I frequently use this tool with clients to identify low-hanging fruit keywords by filtering the keywords that are ranking on position 4-10 or 11-20 to see how the client can move those keywords into the top position and improve search visibility.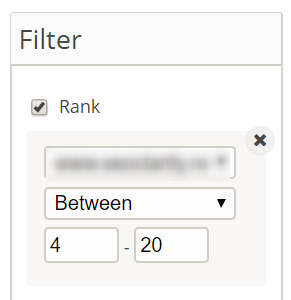 Sample view of Rank Intelligence with filter to show low-hanging fruit keyword opportunities and associated URLs.

This feature is incredibly fast and flexible in its filtering capabilities that make narrowing in on specific subsets of keywords - like those with a certain search volume or those that trigger a featured snippet - easy to understand as well.
Tip 2: Gain Visibility Into Term "Not Provided"
Research Using Search Analytics
By Jessi Underhill, Client Success Manager
Occasionally, clients will ask me how to better understand their high performing pages that have a low click-through rate (CTR), as well as how to uncover keywords that analytics displays as "keyword unavailable". This is when I direct them to Search Analytics within the platform.

Search Analytics reverses term "not provided" and provides visibility into all of the keywords that are driving traffic. This solves the problem of knowing exactly what keywords are driving traffic to your site. It also shows you what pages are high-performing with low CTR. And, the best part? Users can research both at the same time.
This feature also helps with analysis on the fly. While Google Search Console will provide you a sample of data that drives traffic to the site, the challenge that you're going to face is the grouping of terms. If clients want to see a list of all the keywords and, at the same time, get their corresponding landing pages, they learn that it's quite time-consuming and difficult.
Instead, clients need to filter query-by-query to see their associated landing pages, or page-by-page. We have simplified the process by providing you keyword + URL data with the Search Analytics feature within the app.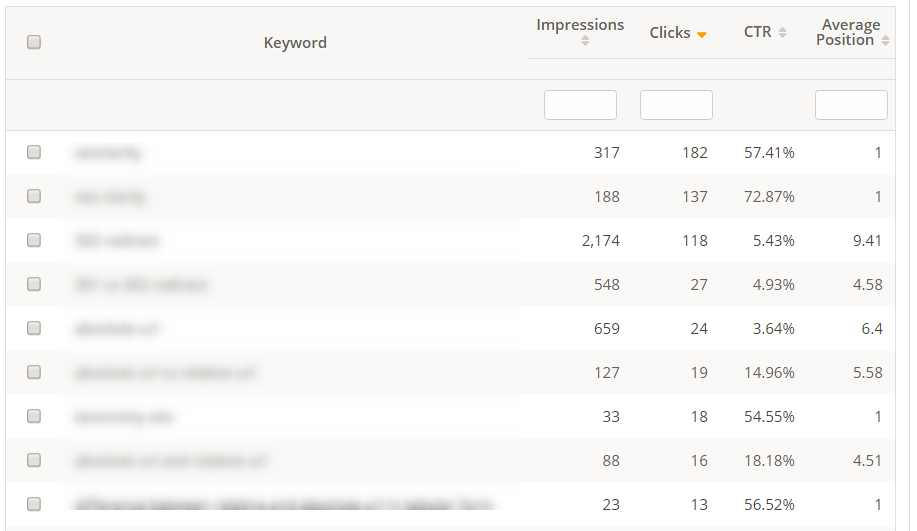 Sample view of Search Analytics, showing a list of keywords that have a high CTR.
There are a lot of use cases for using Search Analytics, but the most common that I walk through with clients are as follows:
The Click-Through Rate report shows the CTR at each ranking position for every query segment. You can select the filter to find the CTR for your branded and non-branded terms.

This helps to answer the question: "What percentage of your site traffic is branded?"

If your site is responsive, you can also compare the CTR across desktop and mobile devices.
If the CTR is low for a particular topic, you can identify the poor-performance keywords and improve the title tags, descriptions, or rich snippets to improve CTR.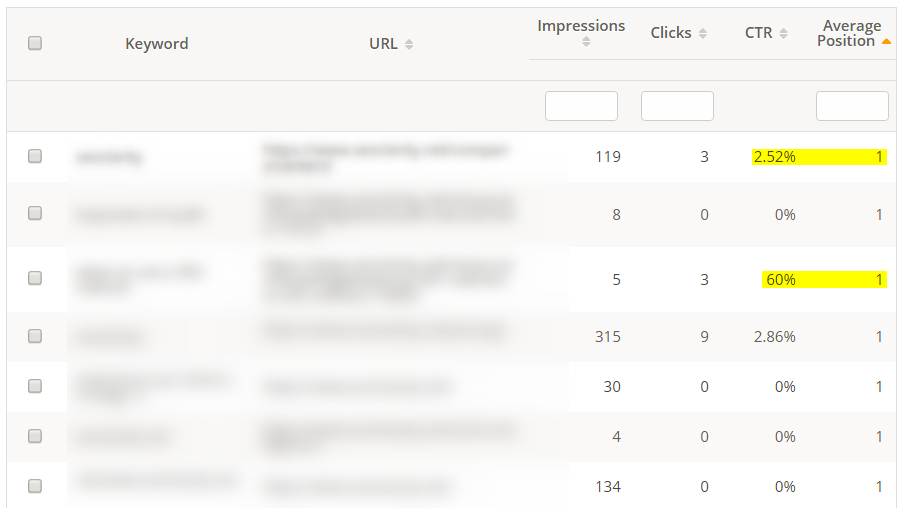 Sample view of Search Analytics that shows keywords and their associated URLs that are ranking high and have a high CTR.
Tip 3: Compete With Answer Box Opportunities
Research Grid Capabilities to Help You Compete
By Pramila Devadas,
Client Success Manager
My clients are busy and sometimes overwhelmed by the competition. One solution is in reviewing their Answer Box Opportunities in the platform along with our SERP Preview function within Research Grid.
With Voice Search gaining momentum and a plethora of dizzying tips out in the SEO marketplace on how to win the Answer Box, clients can effortlessly navigate over to the Answer Box Opportunity in the Research Grid. Alternatively, users can review the Answer Box counts for Managed Keywords for a real-time review (and maybe a reality check!) of what keywords they (or their competition) might be winning the coveted #1 position and that Answer Box.


Sample view of Answer Box opportunities that are available for your Managed Keywords but are pointing to a competitive URL.
Research Grid helps you get the answers to the questions you're looking for. One use case is that you can find out if your site has been hit with a Google Algorithm update or not, and you can pinpoint exactly which section of your site was hit.
We collect ranking for millions of keywords daily, and clients are only tracking a fraction of those terms in Managed Keywords. Research Grid sampling data will help you to investigate what part of the site has seen fluctuation in ranking in case of any Google algorithm updates.
Staying steps ahead of your competitors can seem like a daunting task for even the experienced enterprise SEO, but this challenge can also present opportunity when using the seoClarity platform.
Tip 4: Determine What's Next In Your Content
Content Opportunities Help You Continue to Compete
By Pramila Devadas,
Client Success Manager
While a solid competitive strategy requires a range of resources, data, and intelligence, seoClarity provides access to a full suite of resources that help SEOs and their team keep a finger on the pulse of the competitive landscape. A few of these features include:
Top Competitors

to help discover the "true" competitors for keywords that are being tracked in the platform

Competitor Clarity

, where users can view and analyze competitors' domains, keywords, and inbound links
With the ever-increasing focus that brands have on their content, our clients certainly appreciate:
Content Ideas

, as it generates a list of all competing news articles, news sourced from competitor sites and publishers as well as others in your sphere of influence.

Content Gaps

to identify high value content topics and opportunities of competition

Content Fusion to target semantic keywords you should use to write the content on the topic you determined from Content Gaps.
Using these capabilities together is a simple exercise and a nudge toward how a holistic competitive strategy of maintaining the right keyword profile plus authoritative content and a well-structured website - all anchored in our platform - can help users beat the competition confidently for their brand, their organization, or their service in the SERPs.
Closing Thoughts
As the saying goes, Your Success is Our Success, but what happens when you're not feeling successful within the platform? This is where you must lean on the Client Success team as a true extension of your SEO operations. This supportive team of talented individuals have the skills to comprehend your most pressing challenges and guide you to make the best, informed decisions about your SEO. Use the tips above to improve your search visibility and your overall platform understanding.