Any major enterprise brand serious about its online search presence faces an enormous challenge: it typically has to work with limited or incomplete search data.
Granted, it can monitor rankings with some degree of accuracy, but it cannot tell what keywords drive traffic to competitors, what SERP result they select, what other keywords they use throughout their buying journey, or even the real search volume those keywords receive.
Our goal at seoClarity is to provide our customers the data they need to make well-informed decisions about their search visibility.
That is why we launched a new product to the market, one that allows for an understanding of all the above insights, and more.
seoClarity is excited to announce the launch of Clickstream Insights, based on data from 100 million panel across different devices and countries that contains search behavior from their entire session, what results they did or didn't click on, the real search volume as it's happening, and more! Below, you'll find out how our clients are leveraging this data to drive incremental insights to drive their search visibility.
Let's start at the beginning, with what it is and its relevance and credibility.
What is Clickstream Data and Clickstream Analysis?
Clickstream analysis is the process of collecting data on which sites an internet user visits, and in what order they view those pages during their online journey.
Clickstream data, therefore, is the consolidation of that information.
You most likely have conducted some form of clickstream analysis already. For example, you have to do it to analyze how customers travel through your company's funnel. In the process, you would review traffic sources, landing pages, exit pages, and other data and information through your site analytics, Google Search Console, etc.
All this data, however, relates to your website and the data available within your analytics package – it doesn't provide the entire journey (that starts on Google) to give you the complete picture.
Clickstream data is actual user activity on Google worldwide. It gives you access to information beyond your website's analytics to discover what people search on, what they search for, what website earns their click, and every site they choose within their search activity.
Why is Clickstream Data So Important for SEO?
Data is critical to SEO success.
Unfortunately, we get less and less of it from Google.
Granted, I do not think that the search engine restricts this information to hurt the SEO industry. Yet, the fact remains that in the last couple of years, we've lost quite a bit of data.
Since 2012, the search engine began delivering sampled data in Google Analytics. A year later, Google rolled out "not provided," restricting keyword data. It has since removed the search API, ended the Toolbar Rank, restricted the Keyword Planner to paid traffic only, and more.
As a result of these actions, much of the data we need to make better decisions remains beyond our grasp.
Clickstream data gives you access to all this important information, and we're currently the only enterprise SEO company with this detailed data and its insights.
The Credibility of Clickstream Data
This is the number one question we get. Does the data have enough breadth and depth? So far, we SEOs receive a substantial amount of information from Google – GSC and GA have been a staple of our data.
We cannot refute the credibility of this data, of course. It comes from Google directly, after all.
However, the information we get is limited and tells a part of the story only.
Take the Search Volume, for example. Google is known to group keyword data together. As a result, the search volume is rarely a true representation of the interest in a particular keyword.
Let me illustrate this using the keyword "Hotel."
The Keyword Planner reports a staggering 11,100,000 search volume. However, Google is presenting multiple variations of that keyword mashed together.
Clickstream data provides a sampled set that can lead us to a phrase's true search volume. We can extrapolate that data to gain a more accurate estimate of search volume based on the population - revealing the real search demand.
This data helps reveal the real potential of a keyword, rather than combining it with other phrases which results in an obscured search volume result.
Clickstream Insights reveals much more about the phrase, too.
For instance, of that search volume, 155k searches result in zero-clicks.
The data also reveals that there are 236,000 unique keywords for "Hotel" and so on.
But how valid is Clickstream data, really?
Clickstream data is the world's largest panel of such information and activity of users on Google, aggregated from browser plug-ins that they opt-in for.
Note, this data does not come from Google. It's collected directly from users who opt-in to provide it when using third-party products on their computers and phones. All data is anonymized and GDPR compliant, which means there is no personal identifiable information in the data set.
As a result, the data is 100% accurate. It has a 100 million user panel – the largest by far. The second largest is 10 million, making our user panel a whole factor larger than anything else out there.
Let me provide you with a few more key statistics to prove the true potential of this dataset. The following numbers reflect one month of data:
2.5 billion records
826 million unique keywords
221 million domains
172 countries

And that's not all:
Traffic source breakdown of desktop (64%) and mobile Android (36%)
Traffic represented includes 54% of organic visits and 40% of paid.
Gender breakdown of male and female users, as well as age range.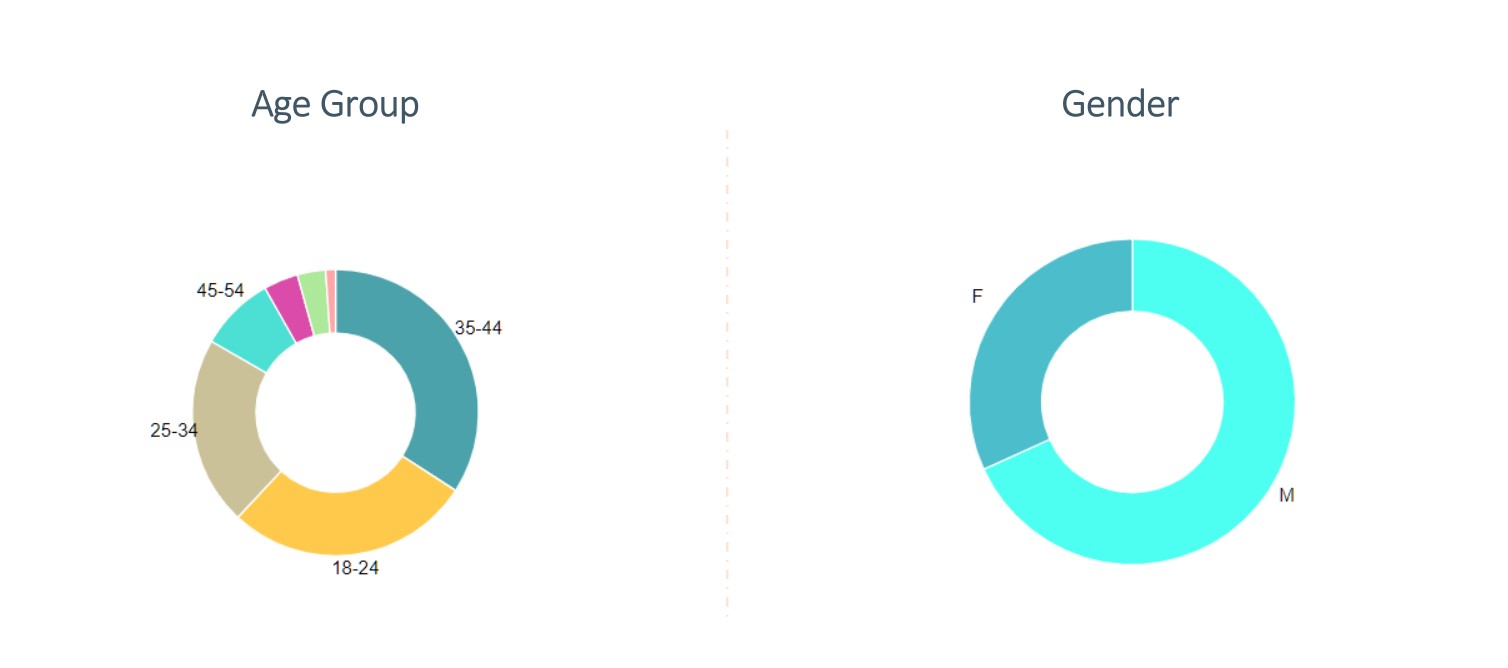 What's unique about the data that we've acquired is that it is completely raw. This makes it the most valid source of information available. Other organizations may have access to summary-level data, but they're greatly limited. They can't see what date the search is occurring, how many times something was searched, what device the search occurred on, etc. This is all available with Clickstream Insights from seoClarity, and this granularity is going to be crucial to gain great insights into users' true search behavior.
Benefits of Clickstream Insights
Clickstream data offers invaluable insights into user preferences and search journeys. The usefulness of the data is simply unmatched in the industry.
Here are five insights you can only be privy to with clickstream data.
Traffic Breakdown.
This data shows the breakdown of the type of click. It reveals what percentage of people prefer to click on paid or organic listings. While a keyword search for a specific product may result in a paid click because the search intent is transactional, a search that is more upper funnel with an informational intent is expected to result in an organic click. These are numbers that clickstream data gives you access to.
It also contains information about age group and gender at the highest level, and we know this information at a keyword level and domain level, too. This can be extremely valuable for UX groups. Take Airbnb, for example. We know that women are predominantly responsible for vacation planning in the US, so if their website doesn't appeal to women, that's an opportunity for their UX teams to take into account in their design and approach on their site.
Search Volume Accuracy.
As mentioned, Google clusters similar phrases, meaning that you can never be sure that the search volume you're presented with reflects the actual number of searches for a keyword. What we can do is show the Google Search Volume for a keyword, and compare it with what the clickstream data shows as the real search volume for that keyword. This reveals the gaps in the data, and with the addition of our AI for user intent to analyze this information, helps gain a deep understanding of the user behavior.
And with over 100 million devices tracked, it provides a statistically significant sample on which to create the real estimated search volume in more specifics for each keyword.
SERP Selection Preference.
Not only do we know what keywords people search for, we also know what website won the click, or if the outcome was a zero-search. That's data that someone can't get anywhere else. This is the only data source that can unravel that information.
Why is this insight important?
Even if users search for your branded product, they might skip your site and go to third-party sellers or review sites.
Right now, SEOs can only calculate the clicks for their own keywords. They can't predict it – they have to wait until someone comes directly to their website. This data offers a peek into the future, so to speak, allowing them to alter their strategy, or further address the need of the searcher as needed.
This type of information can answer a lot of questions.
Such insights let you assess how much traffic you're missing out on, and devise a plan to recover and earn it.
Customer Lifecycle.
Companies often want to know what people search for after they search for a keyword. What does the customer journey look like? This is something that people struggle to understand. Clickstream Insights presents you with precisely that information. You can see the original search term, and how the user refines their search over time.
This data can also be used to predict users' thought process. We should be able to, in the near term, categorize these keywords into groupings, and predict what a user's search is going to be based on the start of their search journey.
Knowing what customers search for helps you to identify their buying journey, and know where to position your brand to attract those people to your site.
As Real-Time as It Gets in SEO.
Google Keyword Planner and other tools only report on new keywords when they've gained a substantial search volume. This often means that new keywords aren't included until they become popular, which can take up to 6 to 9 months. If you are using SEO data to understand user demand for a product or service, you've potentially missed an opportunity in market research and traffic.
With clickstream data and its day-to-day, essentially real-time updates, you can be the first to the party and discover those keywords earlier to apply strategies, content, and further product development before the data will be readily available in other keyword research tools, including Keyword Planner.
This up-to-date information can be beneficial in many use cases. Take PR crisis management for example. If your business suffers from a PR crisis, you can monitor the search trend for your branded terms to see where to invest efforts in controlling the damage.
The scenarios to which clickstream data can be applied are seemingly endless.
Why seoClarity ClickStream Insights?
If you're a brand that needs more in-depth data to drive its search visibility forward, clickstream data is for you.
Here's why.
We have the raw data. This allows access to slice, dice, and analyze and to gain whatever insights you need.
It's real-time. Or at least, as real-time as it can be in SEO. We get the data daily so you will never have to work with a month-old data set.
Finally, we have the infrastructure to let you manage the data. seoClarity's Clarity Grid helps you analyze the data, correlate it with your site's performance, and more to drive the results you seek.
How Do You Gain Access?
This is a brand new development from seoClarity! Clickstream data is not included in the standard client packages. This means if you're not an existing client, you can still purchase this data as a standalone package and benefit from the incredibly detailed insights. We've prioritized its development because of the precise, credible information it offers. The value you get from this raw data is simply unmatched in the industry.