It's an undisputed fact that well-written and well-researched content drives organic traffic. You want success in SEO? Create great content.
The recipe for content to reach its maximum effectiveness is a mixture of meeting the user's intent to build authority and consistent measuring, optimizing, and refreshing for performance.
To do all of that at scale often requires some guidance. With the Content Services approach from seoClarity's SEO Professional Services, our clients gain the support to help them create quality content, fulfilling their web content needs through evergreen resources, blog posts, category pages, service pages, product pages, and other on-page content.
Don't just take my word for it. The following are success stories of Content Services to show you how, from content ideation to content creation and all the way to content optimization, we help our clients build better content and expand their audience.
This article will cover:
Our process to content success
Why seoClarity's Content Services is different from other writing solutions
Success stories with our Content Services approach
Level up your content creation, guided by SEO expertise and enabled by the seoClarity platform, with a Content Services approach from SEO Professional Services.
Our Approach: Content Success with Content Services
Built from our experience in content writing and SEO, we've established a systematic approach to deliver impactful content along for all every stage of the buyer's journey.
We work with a team of content partners who leverage their SEO and content writing experience along with content briefs built from seoClarity's Content Fusion to improve the search experience of the content. We combine these insights with a client's brand guidelines to help inform their content decisions and writing style.
Our Content Services roadmap can be summarized in five stages:
Recommended Reading: SEO Success Stories in Managed Services
seoClarity's Content Services vs. Other Writing Services
Our clients often ask us this question, especially with so many content options available at a variety of price points.
seoClarity's Content Services offering is built to structure, simplify and scale any brand's content marketing capabilities and content output. We are going for impact that we can measure within the enterprise platform, not just turn our client's into content farms where we're going from one piece of content to the next. We're creating properly optimized content to address user intent at all stages of the buying process.
We provide tailored analysis and recommendations that help you take the best next step to bolster your strategy. Specifically, we:
Execute data-driven workflows to discover topics to write about
Make recommendations to fill your content roadmap
Work with professional writers to write the actual copy
Ensure content is edited and is written with authority to win in search, and your brand voice and tone
Ensure the content strategically implements "must use" keywords in content fusion
Builds up a roster of individual writers that learn from your feedback to improve
Confirm content is launched, or launch content for you with access to your content management system
Measure and visualize the performance of your new and optimized content within seoClarity dashboards
Pricing is based on the requested units of content delivered. Clients can get started for $1,500 with a sample of 2-4 units of content from the full content recommendation. All projects require a custom quote and pricing includes project management and analysis.
Want to rev up your SEO program and make use of powerful SEO services to scale your business and your content production forward? Our pricing is designed to fit a variety of enterprise business needs and budgets.
SEO Success Stories: Real Stories of Strategic SEO Wins
If you're not yet convinced by the value that great content can add to your site's organic traffic success, here are four stories of recent client success with their content optimization (use the links below to click through to each story).
Jewelry Retailer Sees Content Wins Following a Site Migration
Tactics
Through seoClarity's Content Services, this luxury brand monitored keywords and traffic data based on specific merchandising categories following a massive site migration that impacted several historical pages of content.
For topics with opportunity to recover or grow visibility, content was added and the Weighted Average Rank was monitored over a 15-week period. This metric was compared against a control of all category pages through the same time period.
The SEO Professional Services team provided the training and dashboard integration for the retailer to monitor traffic trends to see where content was not performing as expected and where adjustments were required by the content team. Where ranking declines occurred, the team relied on Content Services and their use of Content Fusion's content briefs, providing them with everything they contextually required to optimize their content.
Results
Thanks to the content dashboards and structured workflows that were implemented through Content Services, the jewelry retailer was able to identify overall traffic-boosting impact of creating new content as well as improving already existing content.
New content was added to ecommerce category pages and the brand out-performed the control group by 6% over a 15-week period. The team also identified an incremental increase of +100K organic visits over a 4-month period, and increased their traffic driving keywords.
Read the full case study: Luxury Brand Sees +100K Visits Over 4-Month Period with seoClarity

Optimization of Hyperlocal Content Experiences 42% Uptick in Traffic
Tactics
A self-storage company set out to create a great search experience across their pages tailored to specific locations across the United States. They used seoClarity's Content Services, which leveraged Content Fusion's deep-data and AI-powered insights that go beyond generic content built from minor changes.
In one example, the storage brand found unique terms about storage unit accessibility for RVs. Content Fusion provided detailed information to include in location page content to help searchers understand the unique aspects of the location. Unique localized content at scale helps searchers find content relevant to their needs.
Results
The self-storage team was amazed by how quickly the machine learning and AI-driven insights from Content Fusion delivered them expert-level content to propel them forward.
In an initial 15-week test of ~60 unique local URLs with updated content they saw a 42% uptick in traffic to optimized pages!
Compared to the control group of pages that had not been optimized, the optimized content experienced an average rank increase of 2 positions in the SERP over the initial 15-week test.


Blog Content for Storage Brand Drives 5,000 Impressions in First Quarter of Work
Tactics
For one enterprise storage solution company, Content Services identified highly competitive topics in their industry and launched "seed" content in the form of blog posts on their site. To do this, the SEO Professional Services team conducted thorough research to confirm that the content would be relevant in order to receive the desired impressions.
Results
Not only did impressions skyrocket to an additional 5,000 over one quarter, the company also experienced a lift on their competitive content in its visibility in the SERP. As part of the Content Lifecycle approach through Content Services, this content is expected to improve incrementally over time.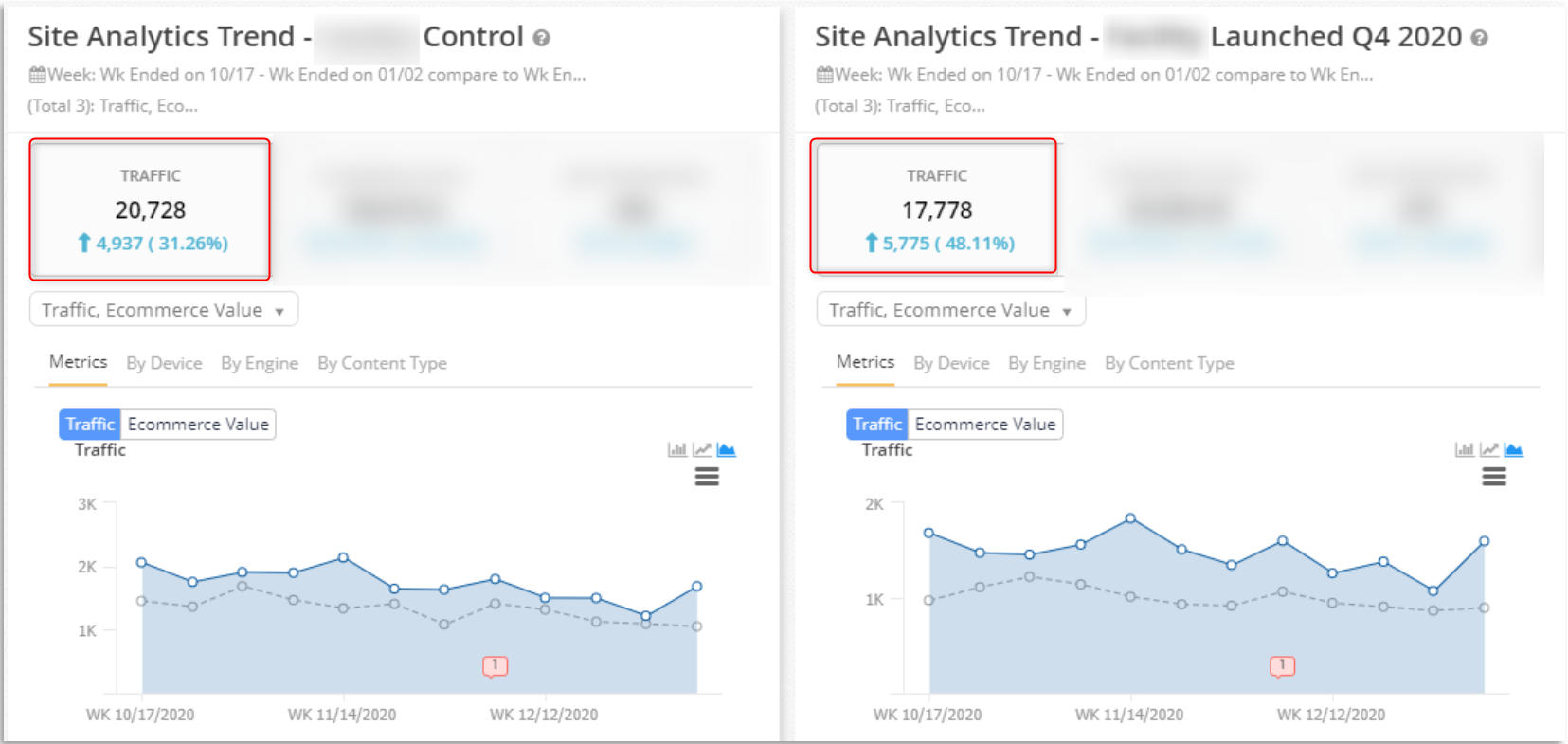 Ecommerce Furniture Brand Sees 94% Increase in YOY Traffic and 48% Increase in Revenue
Tactics
Content Discovery is part of the Content Services approach that involves surfacing of content targets and content briefs to the client writing team. seoClarity engaged in monthly meetings with the ecommerce furniture brand to report on blog trends, providing recommendations for new content ideas based on platform content workflows. Specifically, they delivered insights and content briefs to enable the brand's writers to create high quality content to drive traffic and conversions.
Results
With Content Services, the furniture brand consistently launched new content supporting their seasonality and brand efforts. This has led to a 94% increase in YOY traffic and 48% increase in revenue from traffic coming from their blog.
Site Analytics view of traffic and revenue during Q4 of 2020.


Conclusion
SEO and content writing services from seoClarity's SEO Professional Services team provides enterprise brands with the avenue to create quality content guided by SEO expertise enabled by the platform. Reach your organic traffic goals and your target audience with well-researched and data-backed content including blog posts, product descriptions, and any web page with Content Services.
If you're already a client, contact your Client Success Manager to get a customized quote and package for your content writing project.