Des Plaines, IL -- June 12, 2013
The first ever website auditing solution that allows enterprises to audit their entire site, regardless of size, was introduced today by leading enterprise SEO platform seoClarity at the 2013 SMX Advanced conference in Seattle.
Called Clarity Audits ), this enterprise solution is built from the ground up to crawl sites with anywhere from 1 million to tens of millions of pages and is able to identify a wide range of issues that negatively impact user experience and SEO – from broken links and 404 errors to incorrect and missing content.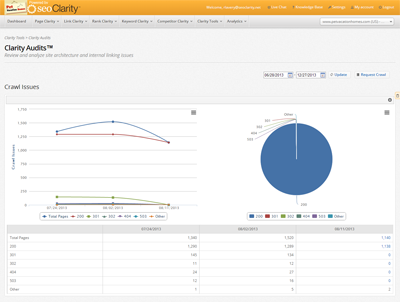 Mitul Gandhi, Co-founder and Chief Architect of seoClarity, notes "Enterprises have long been stymied by the limitations of current desktop and SaaS solutions that were built to audit smaller websites. Conducting a full website audit has been a near impossible task for these Enterprises – until now. We designed Clarity Audits to be a customizable, flexible and above all, a comprehensive website auditing solution that would check every last page, tag and link on a site, no matter how complex the architecture."
Clarity Audits is built to be fully configurable to allow for a wide range of use cases. IT teams can use it for ensuring optimal site health; content teams can use it for quickly identifying specific content issues and other significant problems.
Its breadth of exclusive features distinguishes the seoClarity SaaS solution, with Clarity Audits being just the latest disruptive innovation.
Attendees of SMX Advanced can visit Booth #32 at the Expo today for live demonstrations. Additionally, qualified enterprise companies can arrange for a free no-obligation demonstration any time by calling seoClarity at 773-831-4500 or visiting our website.