Agile Enterprise Testing Solution Helps SEOs Implement Tests to Accelerate Results

CHICAGO, Ill. (April 28, 2022) -- seoClarity today announced the launch of their powerful new testing solution, SEO Split Tester, which provides SEOs a way to test optimizations with more agility—without straining current resources.
This builds upon the launch of ClarityAutomate, the next-gen SEO execution platform. It solves the most fundamental roadblock to achieving SEO results: execution.
"Nearly every marketing discipline uses some level of testing as a proven scientific methodology," said Mitul Gandhi, co-founder and Chief Architect of seoClarity. "But, in SEO, it's been notoriously cumbersome and not for the faint of heart."
Many SEOs know that split testing is the path to better results but lack the resources to see their tests through.
"Of course, brands can invest in data scientists, developers and advanced infrastructure to build, run and analyze tests," said Gandhi, "but now, they don't have to."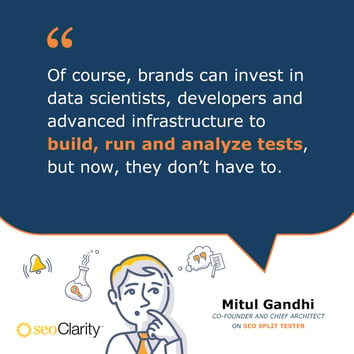 SEO Split Tester gives enterprise SEOs a more agile approach to test their hypotheses, implement testing at scale and measure the results—all within a few clicks.
With SEO Split Tester, SEOs can:
Deploy tests in minutes
Scale experiments across millions of pages
Validate hypotheses with built-in statistical analysis
Prove the ROI of efforts
Make data-driven decisions
… all without requiring dev resources, data scientists or complex infrastructure.
"In our experience, clients consistently outpace competitors by 15-30% in traffic growth when they prioritize SEO testing and implementation," Gandhi said.
SEO Split Tester eliminates the guesswork around which optimizations will accelerate SEO results—backed by data.
Meredith Raico, SEO Director at Sparefoot, notes that, following a successful test,
"The SEO changes only took a day of [dev] work, but without the ability to test that data, none of it would have been prioritized."
SEO Split Tester joins Page Optimizer as part of ClarityAutomate, a series of new capabilities the company announced as part of a $30 million investment. Each is designed to tackle the biggest challenges in SEO.
For more information about ClarityAutomate, current clients may reach out to their Client Success Manager; all enterprise SEOs experiencing similar challenges are encouraged to sign-up for a demo.
# # #
ABOUT SEOCLARITY
seoClarity is an AI-driven search and content optimization platform that focuses on users' search experience and guides enterprises on their journey to SEO Excellence. Using a combination of deep machine-learning and real-time insights, seoClarity covers the entire SEO lifecycle.
seoClarity is trusted by 3,500+ brands and agencies, including Zillow, Expedia, and Orbitz and is ranked by G2 among other platforms in the SEO industry as a product Leader, a High Performer for Enterprise and Mid-Market brands, and Easiest to do Business With for Mid-Market brands. For more information on seoClarity, visit https://www.seoclarity.net/platform/.
Contact: Mary Kate Mack
Email: mmack@seoclarity.net