New for 2016! Clarity Academy Live – Interactive seoClarity Training Workshops
We are excited to announce that the Clarity Academy Workshop in San Diego graduated the first group of advanced platform certified professionals! The San Diego SEO community continues to contain the most innovative thought leaders in our industry, and those people have been a part of the seoClarity family of users since the beginning.
Those who attended the workshop learned about the Search Experience Optimization Framework, which was developed to help SEOs understand the evolution of search and prioritize their ongoing efforts accordingly. Attendees also engaged in an interactive workshop, where they learned intermediate and advanced features within the seoClarity platform related to the Search Experience Optimization Framework.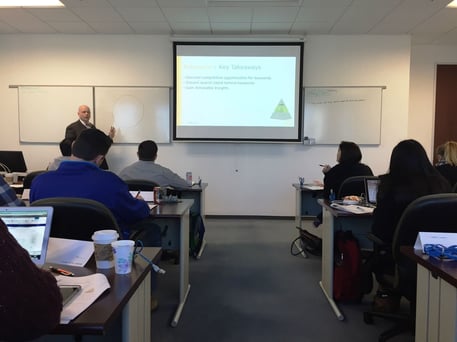 Here is what people are saying about Clarity Academy Live:
"The Clarity guys were all very personable and easy to talk to. I enjoyed how casual the event was, while still getting a lot of useful information"
"I am a new user to seoClarity, therefore I enjoyed the entire training."
"The highlight was going through how to utilize the data in everyday applications and learning more about A/B testing"
What is Clarity Academy Live?
Built upon the success of the very popular Clarity World Tour in 2015 and the continued feedback from our clients, we have put together an exciting new series of Interactive Training Workshops called Clarity Academy Live.
For the first 7 months of 2016, Clarity Academy Live will visit 8 cities across the U.S. and worldwide. This half-day workshop provides intermediate to advanced training on the seoClarity platform in addition to discussions on day-to-day use cases and group knowledge sharing. At the end of each workshop, attendees are fully prepared to complete seoClarity Platform Certification tests.
Each workshop is taught by Keith Goode, Chief SEO Evangelist and seoClarity Account Managers who have deep understanding of the attendee's challenges and interests.
seoClarity users can register by selecting the event you would like to attend. Contact your Account Manager for special promotions.
AUSTIN | ATLANTA | SEATTLE | LONDON | NEW YORK CITY | TOKYO | SAN FRANCISCO