[su_divider top="no"]
What Does It Mean to Have a Global Team?
Here at seoClarity, we work with lots of large enterprises that span across different countries and languages. These companies must rank high and maintain quality content throughout the world- which takes a global team. Having a team that's properly trained and that works together seamlessly is essential to a successful global SEO strategy.
In an upcoming webinar, "Training a Global Team (Part 2): Bridging the Gap Between Multiple Stakeholders Worldwide," Internet Marketing Inc.'s Vice President of SEO, Benj Arriola, and seoClarity's Co-Founder and Chief Architect, Mitul Gandhi will offer an advanced analysis of what it takes to build a scalable, global team and bridge the gap between stakeholders.
What Will You Gain When You Attend the Webinar?
When you attend part two of this 3-part webinar, you will learn:
What a global team and multiple stakeholders mean to your enterprise
How you can scale SEO strategy across multiple countries and languages using a well-ordered team
Advanced tips and tricks for building and maintaining a global team
Advanced analysis through expert advice and use of case study examples
Who is Speaking at the Webinar?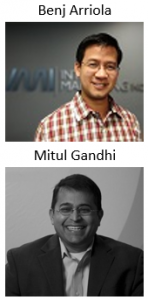 Benj Arriola – Benj is one of the most highly respected SEO experts in the world. He oversees Internet Marketing Inc's overall SEO methodologies. Benj speaks on a wide array of topics including SEO strategy, content marketing, analytics, social media, and web development. He has spoken at SMX, OMS, SES, Pubcon, IRCE and many others.
Mitul Gandhi - Mitul's 10+ years of experience in marketing and SEO consulting with Fortune 500 brands is the basis for his innovative approach to SEO. As the Co-Founder and Chief Architect of seoClarity, he has patents pending in the field of SEO analysis, and has been quoted in leading industry news sources.
What Will the Webinar Cost You?
The webinar is FREE! So what are you waiting for?
[su_button url="https://www1.gotomeeting.com/register/642785792" target="blank" style="flat" background="#ef922d" size="6" center="yes" icon="icon: check"]REGISTER NOW[/su_button]
[su_divider top="no"]
seoClarity and Internet Marketing Inc. have teamed up to deliver a 3-part webinar series that promotes organic search marketing thought leadership in a real world case study. In this webinar series, you won't just hear ideas and theories - you'll hear real-life use cases in which Internet Marketing Inc. was able to build a center for global excellence using seoClarity.