A Huge Success
Part one of the three-part series, "Ultimate SEO Analytics Tool: Scaling SEO Globally for Large Enterprise Businesses," was a huge success and a great kickoff to what's sure to be an informative and innovative series. CEOs and global SEO leaders tuned in to hear Benj Arriola, Vice President of SEO at Internet Marketing Inc, and Mitul Gandhi, Co-Founder and Chief Architect of seoClarity, dive into advanced tips, tricks, and use cases for scaling SEO across languages and countries.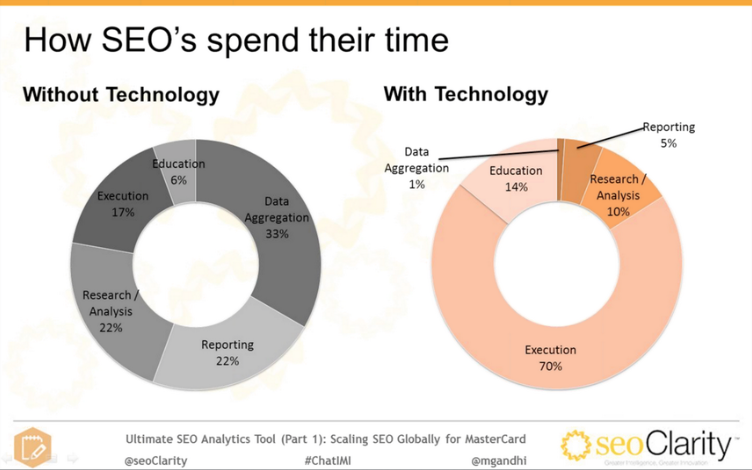 A Global Center of Excellence
In part one of the webinar, Arriola and Gandhi established the basis for any successful global enterprise SEO venture as the center of excellence, supported by four interconnected pillars: teamwork, tools, training, and talent.
Did You Miss Part 1?
If you missed part 1, have no fear! You can view the recorded webinar, Scaling SEO Globally for Enterprise Businesses; And even if you skip the first installment, the next two parts are independent of the first, "Bridging the Gap Between Multiple Stakeholders Worldwide" and 3 "Enterprise-level Valuable Insights that Drive Action".
What to Expect from Part 2
"Ultimate SEO Analytics Tool (Part 2): Bridging the Gap Between Multiple Stakeholders Worldwide" will offer an advanced look at global SEO in large enterprises with multiple stakeholders, complete with tips, expert advice, and use case examples. There will also be a Q&A session at the end, offering the opportunity to talk to two industry-recognized SEO experts.
About the Presenters
Benj Arriola – Benj is one of the most highly respected SEO experts in the world. He speaks at conferences worldwide, contributes to major online and print publications, and oversees Internet Marketing Inc's overall SEO methodologies. Benj speaks on a wide array of topics including SEO strategy, content marketing, analytics, social media, and web development. He has spoken at SMX, OMS, and SES events worldwide, Pubcon, IRCE and many others. You can follow Benj at @BenjArriola.
Mitul Gandhi – Mitul's 10+ years of experience in marketing and SEO consulting with Fortune 500 brands is the basis for his innovative approach to SEO. As the Co-Founder and Chief Architect of seoClarity, he has patents pending in the field of SEO analysis, and has been quoted in leading industry news sources. You can follow Mitul at @mgandhi.