On Thursday, 21 January 2016, seoClarity's Chief SEO Evangelist, Keith Goode, presented a webinar on "Knowledge Graph, Instant Answers and the Wisdom of the Crowds." In this 30-minute webinar, Goode discussed the many aspects of Google's Knowledge Graph, the specific category of Instant Answers and the techniques used by sites to successfully land in this valuable search engine real estate.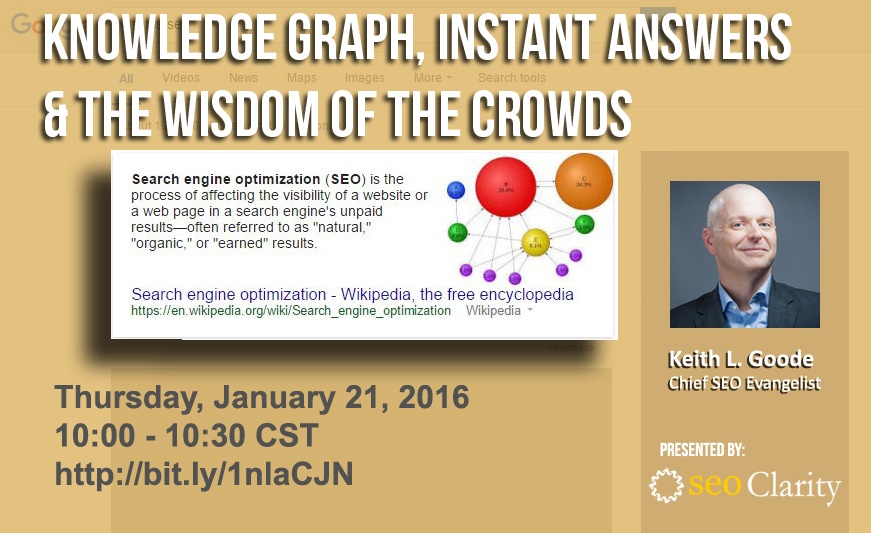 Below are the points discussed in the webinar along with links to the video recording and slides.
Types Of Knowledge Shared In The Knowledge Graph
Google's Knowledge Graph isn't a single set of information, but it is a rich collection of different types of information displayed differently to fit the user's search needs. We've seen Google evolve over the years from wanting to be the best search engine, to being the answer engine, to being the source for the right answer for each query. To this end, their technology (including recent additions of A.I. and Rankbrain) and their interface have evolved.
The types of answers in the Knowledge Graph as a whole break down into several categories, including:
Biographies
Company Profiles
Common Knowledge
Carousel
Tools
Instant Answers
As mentioned in the webinar, SEOs have very little control over what goes into most of these categories, aside from making sure that a Wikipedia page exists for their companies. But the one area where a great deal of control exists is in Instant Answers.
Instant Answers And The Art Of Concise Instructions
One type of search that consistently results in an Instant Answer is the "how to" query. This isn't the only way to get an Instant Answer, by the way. We've seen single word queries like "figurines" result in an Instant Answer with an embedded link. But "how-tos", like "How to write a cover letter," reveal an effective and replicable approach to content that greatly increases a page's chances of scoring that prime real estate in Google.
The 5-step approach to getting your content into Instant Answers is as follows:
Identify The Questions Being Asked

Use Either Ordered Or Unordered Lists

Be concise: get to the point

Use anchor text to point the content

Use markup to highlight the key points
Be sure to watch the recording of the presentation below to hear some of the secrets to writing copy that enhances the search experience, rather than the old humdrum SEO copy of yesteryear.
Here is a copy of the presentation file: