If you've talked with me or seen me present at a conference, you know how much of an advocate of what I call "the democratization of SEO" I am. And it's not so much that I'm an advocate of it as I believe it's the way the SEO industry is going. The days of large SEO teams will be a distant memory in a few years.
A great portion of this is due to Google's steady elimination of the efficacy of historical SEO practices. We'll no longer need teams of SEO copywriters and link-builders, because the activities associated with those roles do more damage than good.
I also believe SEO teams will continue to get smaller because the types of behaviors we find most beneficial to a website – clean coding and architecture, fast and mobile-responsive pages, semantic markup, streamlined internal navigation and linking, and, of course, engaging content – will become embedded into the consciousness of whole organizations, not just cloistered groups of SEO experts. What we prescribe to our writers and our developers shouldn't be considered "SEO Best Practices." Rather, they are just the fundamental parts of running a website in 2014. This is the direction Google has been driving us for years.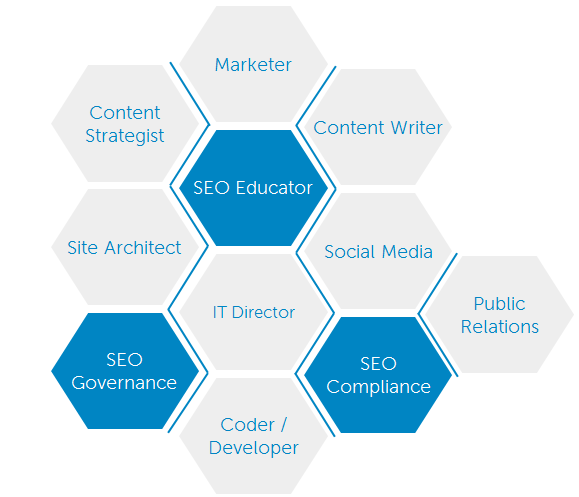 I recently gave a talk for the Austin SEO Meetup Group in which I outlined the steps for integrating this "SEO consciousness" into your development organization. I wanted to cover some key points from this discussion here, as I think they're key to success.
Meet Your Development Staff Where They Are.
This is where some people get really turned off, but the fact of the matter is that the "Well, I'm not technical" excuse generally won't cut it anymore in SEO. If you're not technical, start moving in that direction. Learn some basic HTML. Maybe pick up some CSS. Learn about your site's architecture and content management system. What sort of development process does your team have?
I'm not asking you to become a coder. I'm suggesting that you expand your knowledge base enough to be able to understand their challenges, to know which part of the site needs to be the focus of your change requests, and to develop your training materials in a way that addresses their unique skills. And that leads to my second point…
Customize Your Training.
Sending a developer, program manager, or site architect through training on how to do keyword research and analyze traffic trends is about as useful as teaching a shepherd how to fix a rudder on a cruise ship. While a 5-minute discussion on the basics of SEO might be beneficial, I would suggest that you focus your time on showing them how simply minifying JavaScript on a page can reduce the page weight and improve page load times. Or show them how HTML links in navigation can pass the flow of internal link equity much more efficiently than dynamic JavaScript links.
Take this same approach when you're updating your development team about algorithm changes and other recommendations coming out of the search engines. Don't shotgun the minutiae of every single blog post you read daily. Make your communication with your developers meaningful and relevant. We're all short on time, and e-mail is often the most insidious time thief.
Show Some Gratitude.
An attitude of gratitude will take you a long way with everyone, but you'll get exponentially better cooperation and results from your development staff if you thank them and give them a little recognition for their efforts. This is especially important if they have gone out of their way to fit your requirements into the development cycle when there wasn't budget or scope to do so. If your company has employee recognition awards, recommend the developers who have been your greatest advocates. At the very least, send a thank you note. (I've also seen breakfast tacos go a really long way in building cooperation. Just sayin'.)
Conclusion
Ultimately, SEO as an industry requires both personal and organizational flexibility, and this constant factor will follow us into the future as SEO becomes less of a specialization and more of an integrated function of every job that touches a website. The training you develop for your organization should be equally flexible and customizable.