Check back here for the latest developing news around Mobilegeddon! We will update as we receive new data.
Updated: 11:45am Central (GMT-5), 30 April 2015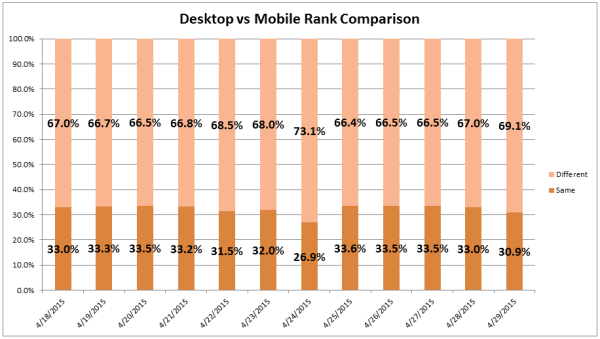 It has been over a week since Google's mobile algorithm change started rolling out, and the resulting turbulence was less impressive than many speculated -- with the effect that was more like ripples in the kiddie pool than tidal waves.
Why is this? Why was there such an industry-wide panic leading up to this change? And why haven't we seen a corresponding, monumental shift as a result?
As we mentioned in an earlier blog post, Google has been showing preferential treatment of mobile-friendly sites since it started displaying the "Mobile-Friendly" tag on search results in mobile SERPs in November. So, it's likely that the biggest shifts have already occurred gradually over the past 6 months. The fact that Google was so candid in its initial announcement about the details around the change as well as giving a deadline was really remarkable.
Additionally, it's very likely that sites have been taking mobile a lot more seriously leading up to Mobilegeddon.
[table id=5 /]
In this table, you'll note that mobile-friendly sites have gained a great deal of ranking increases into the Top 3 results in Google's mobile SERP in the past 7 days.
[table id=6 /]
In a few cases, you can see that the change was merely a trade-off of mobile ranking to the mobile versions of sites, like Staples.com, Huffingtonpost.com, and pcmag.com. However, there are mobile sites that actually lost ranking in the Top 3 results in Google's mobile SERP at the same time.
How is this possible? We will continue to dig into the data to see exactly what happened, but Keith Goode, the Chief SEO Evangelist at seoClarity, speculates that:
"It's possible that, for those mobile-friendly sites that actually lost ranking in this algorithm change, their competitors either finally came online with a mobile presence with an 11th-hour solution, or Google finally recognized their mobile presences with this algo change. The result was an improvement in rank for those competitors, and a loss in rank for the previously-ranking sites."
We will continue to monitor rankings and let you know if anything changes.
Updated: 2:40pm Central (GMT-5), 24 April 2015
This morning, during his Google+ hangout, Google's John Mueller indicated that the mobile changes have been completely rolled out in some data centers. And we're starting to see a more dramatic variation between Google's mobile results and their desktop SERPs. Overnight, we've seen a 5.1% increase in the number of different results between those two SERP types. That brings the total difference from April 20th, the day before the change, to 6.6%.
Remember, that's for 50,000 keyword queries with roughly 60,000 domains ranking in the Top 10 results.
Has your site been affected ... positively or negatively? We'd love to hear from you in the comments.
Updated: 1:00pm Central (GMT-5), 23 April 2015
Here we are at Day 3 of Google's Mobile Algorithm change, and the world still appears to be intact. Of the 50,000 keywords we have analyzed and the associated 60,000 domains appearing in the Top 10 results in Google's desktop and mobile SERPs, April 23rd actually appears to show a 0.5% change in the opposite direction.
The overall "non-impact" of this change has many in the search industry wondering, "Is this it?" Of course, we'll continue to monitor the SERPs and will update here accordingly, but we caution against complacency. There are a couple of potential reasons for the lack of deep impact:
Dr. Pete at Moz reports seeing a notable increase in the number of sites in the Top 10 results becoming mobile-friendly over the past 8 days. So the lack of impact could be directly attributed to the sites themselves, which may have taken the threat of lost traffic to heart and updated their mobile-readiness.
Google has already stated that this roll-out will take more than a single day. Changes in the Top-ranked sites could be gradual and barely noticeable for all we know.
We have looked at the ranking gains and losses individually and have estimated the corresponding potential traffic gains and losses. Some domains that saw gains in estimated search traffic included JCPenney.com, Zales.com, and BedBathandBeyond.com. The chart below for BedBathandBeyond.com shows a 7% increase in estimated search traffic when comparing 4/18 and 4/22.
On the flip side of the coin are a few companies that saw losses in estimated search traffic, which included domains like OfficeDepot.com, History.com, and RottenTomatoes.com. The chart below for RottenTomatoes.com shows a 5% decrease in estimated search traffic when comparing 4/18 and 4/22.
Again, these traffic numbers are based on keyword search volume estimates and in no way represent actual traffic numbers.
Check back here regularly for more updates as we gather more data around Mobilegeddon 2015.
Updated: 12:00pm Central (GMT-5), 22 April 2015
For Day 2 of this mobile algorithm change, we have started to see a shift in the Top 10 results in Google's mobile SERP as compared to the desktop SERP. The difference between site visibility in mobile vs. desktop has shifted 1.7% for the 60,000 domains appearing in the Top 10 results for 50,000 keyword searches.
As Google continues to roll out this change, we may see even more dramatic differences in the coming days and weeks.
Have you seen a change in your mobile rankings yet? Let us know in the comments below.
Originally posted at 6:26pm CDT (GMT-5) on 21 April 2015
The tension in the search industry has mounted higher each day since Google announced that mobile-friendly sites would have a distinct advantage over mobile-unfriendly sites starting on April 21st. Industry blogs have been abuzz with speculation as to how big this change would be.
When April 21st rolled around, reaction was also mixed, but many SEOs were calling it a "boring, non-event."
What Does the Data Say?
seoClarity has been tracking the ranking data in the top 10 results in Google for 50,000 keywords and over 60,000 domains in the e-commerce segment since before the mobile algorithm update, and we ran those numbers again early this morning to see if there were any statistically significant changes.
The data says: No. There is no significant change.
Why hasn't it changed? How can this be? Well, Google released a statement on their blog stating that the rollout would be gradual and that webmasters might not notice a difference at first. We suggest that there are three potential reasons we haven't see a significant change:
We collected the data early in the day. Significant portions of the initial rollout might have taken all day or might have started later in the day that our rank analysis. We will run our analysis again tomorrow and check for any changes in mobile results.
We only targeted 50,000 keywords around a specific segment. e-commerce sites tend to stay up-to-date on technological innovations, so they might have a distinct advantage as a segment over other industry segments. We'll do 300,000 keywords tomorrow and see the difference
Google's gradual rollout won't reflect a change over a period of days or weeks. Changes in the mobile SERPs may not appear in a significant way until the mobile algorithm update is fully implemented. We have already shown that Google has favored mobile-friendly sites for several months. So, we expect mobile SERPs to continue to evolve.
Check back here tomorrow and later this week as we continue to measure the ranking impact of Google's Mobilegeddon.
For information on how to see seoClarity in action click here.